The Patriots always have a few tricks up their sleeves when it comes up to drawing up football plays, but now they have tricky skills on the basketball court, as well. 
In preparation for an appearance at the Harlem Globetrotter's game on Sunday, Trey Flowers took lessons with Globetrotters "Buckets" and "El Gato" to practice new, less conventional moves at the Hockomock YMCA in Foxboro on Wednesday afternoon.
They took underhand shots from half court, caught basketballs on the back of their necks and spun a football on top of a basketball. But they were just warming up.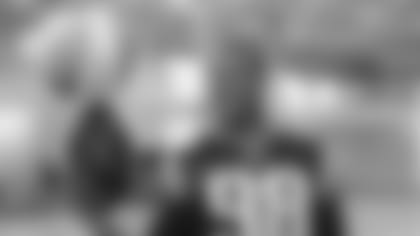 Though it took some practice, Trey eventually was able to master El Gato's specialty: a backwards, one-handed, overhead shot from half court. With local kids watching on, the gym at the YMCA erupted when Trey nailed the shot. 
Buckets and El Gato made an appearance at the Celtics game on Wednesday night, too, and with Bill Belichick in the crowd, the Globetrotters couldn't resist the opportunity to make him smile.
Buckets helped Linda Holliday, Coach Belichick's girlfriend, to spin a ball on her fingertip, and it draw a classic Belichick smile from coach. 
Trey will be joining the Harlem Globetrotters on Sunday at the TD Garden. We can't wait to see some of his new tricks. 
Check out more photos from their practice below.
FULL GALLERY
Patriots DL Trey Flowers learned some trick shots, ball handling and comedy routines from Harlem Globetrotters stars "Buckets" and "El Gato" at the Hockomock Area YMCA in Foxboro on Wednesday, March 1, 2017. Trey will perform with the entire team at the TD Garden in Boston on Sunday.