The Patriots have made a concerted effort to address their defensive front this offseason and no piece is bigger than Davon Godchaux. The four-year veteran seemed well-prepared for what lay ahead of him as he hopes to help the team rebound from the 32nd-ranked run defense via Football Outsiders DVOA.
"I can play any scheme but I feel like this scheme right here fits my skillset, and obviously being coached by arguably the greatest coach of all time, that was a no-brainer," Godchaux told the media on Wednesday.
Godchaux projects to spending a good chunk of his time at the nose tackle position, where he'll likely do a lot of the dirty work in the Patriots defense, dominating the line of scrimmage and allowing the linebackers to make plays.
"A lot of people don't really value that position," explained Godchux. "You don't get the stats, you don't get the accolades or the high numbers that the Aaron Donalds get. You don't get those numbers, but when it comes down to it in the 3-4, the nose tackle is the most pivotal position because it sets up everything."
"In my opinion, in the 3-4 at the nose guard, you gotta have a dog in the middle. Somebody who's going to take up double teams, somebody who's going to win one-on-one blocks. Somebody you just cant deal with. He's a wrecking force. He's a middle linebacker with his hand down."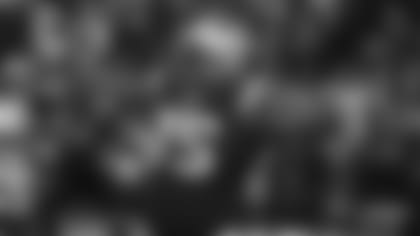 No player was a better wrecking force in the middle at nose tackle than Patriot legend Vince Wilfork, someone Godchaux had visited with and had high praise for. Wilfork could be a valuable resource with over a decade of NFL experience.
"Big Vince Wilfork, can't take for granted what he's done for this program, and what's he's done for the NFL in general," said Godchaux. "He dominated the game at this position. He's one of the guys I look up to when I talk about striking them with your hands and things like that, he dominated that.
"I actually had a chance to spend some time with him in South Florida when I was training down there. He's kind of like a mentor to me if I need to reach out to him with some things at this position."
Godchaux won't be alone, nor should he expect to just play one spot along the defensive line. That's what makes him such a valuable player, and in conjunction with Patriots veteran Lawrence Guy, the Patriots have a great starting point with two dominant interior players. From there, everything else should fall into place for the defense.