The students at Bridge Boston Charter School were giddy on Tuesday afternoon. It wasn't just because summer-like weather returned. It wasn't even because Patriots Adam Butler, Geneo Grissom, David Harris, Deatrich Wise and cheerleaders were at their school -- although that certainly didn't hurt. 
It was because for the first time these students had a playground, or at least, they soon would. 
For the eighth year in a row, the Patriots, UnitedHealthcare and KaBOOM! partnered to build a brand new playground at Bridge Boston. Every year, the trio comes together to build playgrounds in neighborhoods and schools that lack safe places for kids to get outside and play.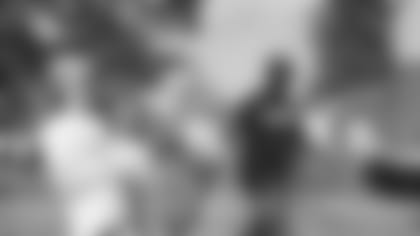 A team of volunteers began working in the morning, and by the end of the afternoon, they had a complete playground. The Patriots spent their day off painting, shoveling mulch and putting together gym equipment, putting the final touches on the brand new space. 
UnitedHealthcare's Director of Social Responsibility Shannon Loecher leads the company's "Do Good, Live Well" initiative. The program sets up volunteering opportunities for employees, which have proven health benefits. Building playgrounds, Shannon said, is a great way to promote healthy lifestyles for children and to get people in the community.
"We focus primarily on decreasing hunger and obesity so anything we can do to get kids and adults a little more active. Giving them a safe place to play like a playground sneaks in that fitness element when they're running around, especially these kids," Shannon said.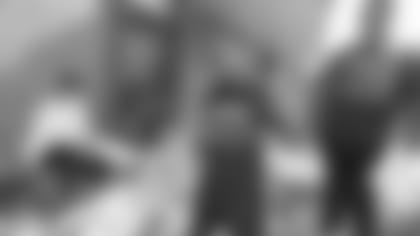 This idea is something that really stuck out to Adam, as well.
"It promotes good health, and I think that's a topic that isn't really talked about that much, especially in school. To be able to give them the tools that they need to have good health, that's a really good thing," Adam said. 
Though it was hot on Tuesday with the sun beating down, there was no shortage of smiles on the faces of the volunteers, students and Patriots as they worked relentlessly to make sure the playground was perfect. That, Deatrich said, is all in a day's work. 
"We're to here to support the community and give back," he said. "Service is one thing I've always loved to do and to give my time back to the community is awesome."
For more photos from Tuesday's playground build with UnitedHealthcare and KaBOOM!, check out the gallery below.  
FULL GALLERY
The New England Patriots teammed up with UnitedHealthcare and KaBOOM! for the eighth consecutive year to build a playground at the Bridge Boston Charter School in Boston on Tuesday, Sept. 26, 2017. Patriots players Deatrich Wise, Geneo Grissom, Adam Butler and David Harris, along with the Patriots cheerleaders, assisted with the final stages of the build.