Rob Gronkowski, Geneo Grissom, Josh Kline and David Andrews reported to camp in Foxborough Wednesday morning – no, not training camp. That's next week. This was the Hockomock Area YMCA's sports camp that challenged players to put their football skills to the test amongst nearly 60 campers during a Play 60 event promoting a healthy and active lifestyle.  
Gronk got the fun started by asking the ecstatic campers an important question.
"Are you guys ready to have a good time?" Gronk asked.
The kids, ranging in age from 6-12 years old, responded with an emphatic, "Yes!" 
Gronk spoke to the campers about eating healthy and exercising daily before he and his teammates led the group in a series of stretches to get warmed up. The campers then divided into five groups and participated in football skill stations led by their hometown heroes.
Gronk led the quarterback and wide receivers station, throwing passes and teaching routes to the youngsters.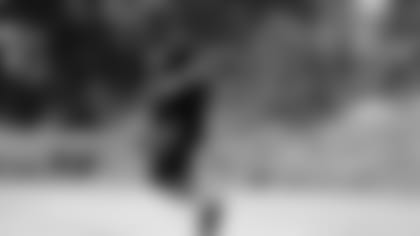 "I had a lot of fun throwing passes to all of the kids and just emphasizing the importance of playing for 60 minutes a day," Gronk said. "It's great hanging out with these kids and being able to have fun with them because they look up to us, so just being able to help out and give back to our home town community in Foxborough is great."
Grissom led the cone course station, which taught kids how to run with the football. He later taught the "Gronk Spike" to perfection, encouraging the campers that when they score a touchdown, they have to spike it. A flattered and impressed Gronk took note of the spikes taking place under Grissom's advisement.
"It's awesome seeing everyone do the 'Gronk Spike' as a touchdown dance and hearing all the 'Patriots' and 'Gronk' chants," Gronk said. "It gets everybody going and ready to have fun. You got to celebrate when you score, so why not do it with the 'Gronk Spike.'"
Over at Andrews' station, the Patriots second-year offensive lineman led a series of lineman drills, focusing on footwork. Fellow offensive lineman, Kline, led campers in an agility station that combined footwork with catching the football. The final station was led by YMCA counselors, who instructed campers in a series of exercises.
Hockomock Area YMCA President Ed Hurley thanked the players for taking the time to visit the Y's sports camp before training camp begins on July 27 with the first public practice of the season taking place on July 28 on the practice fields behind Gillette Stadium.
"These kids are going to be going home pretty tired tonight, but with memories that will last a lifetime," Hurley said. "We all know how great these players are on the playing field. What folks don't get the chance to see is what kind of people they are off the field and we're lucky because we get to see that and get to experience that. These kids are seeing that they're great people and great role models."
Following the Play 60 event, which ended with a group photo and an epic spike by Gronk (because why not?), campers received gift bags from the New England Patriots Charitable Foundation. Additionally, the Foundation donated a flag football kit and the equipment used during Wednesday's event to the YMCA's Invensys Foxboro Branch.
"We have been very blessed to have the relationship that we've had and the support we've gotten from the Kraft family and the Patriots organization," Hurley said. "Days like today just reflect the culture of the New England Patriots and giving back and being a part of our community."
For more pictures from the event, check out the gallery below.
GALLERY
Patriots players TE Rob Gronkowski, C David Andrews, OL Josh Kline and DE Geneo Grissom visited the Sports Camp at the Hockomock Area YMCA to take part in a Play 60 event on Wednesday, July 20. The players spoke to kids about the importance of playing 60 minutes a day and participated in football skill stations with the youngsters.