This year has changed the way we are able to communicate and meet, but Lawrence and Andrea Guy are proof that meaningful connection with new people is still possible -- even through a screen.
In an effort to adapt to the limitations of the pandemic, the Patriots Foundation added an "Adopt-a-School" program, where Patriots players can join students across New England on a regular basis. Via video conference, they have played games, read and answered questions from their newfound community.
Guy was paired with Joseph O Goodwin Elementary School in East Hartford, Conn., and though he has yet to physically be on the school's grounds, he has made an impact.
Through the Lawrence Guy Family Foundation, he and Andrea surprised every family at the school with turkeys, sides and a week's worth of groceries. More than 300 families drove away with a gift from the Guys.
While it's important for them to do this every year, Guy said on the Do Your Part podcast this week that it is even more important this year for those who can help to step up.
"Covid is a big thing. It's not stopping. The more you can do, the more families that may need a little bit of helping hand, you should do the best you can … We're just trying to do our best that we can," Guy said. "Me and Andrea try to support the community because they support us every single Sunday."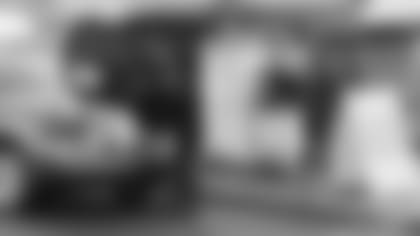 The event in East Hartford wasn't the only event the Guys hosted. The annual Thanksgiving with the Guys event, which is traditionally hosted at a local Boys and Girls Club, transitioned with the times. Instead of serving up dinner for families, hosting a raffle and sending families home with everything they'd need for a turkey dinner, more than 150 families were still able to pick up their baskets. They also donated dinners to 100 families in Las Vegas.
This is something that has been in Guy's family since he was a kid. His father was a firefighter, and after seeing people lose everything, he was moved to help.
"He's seen people's houses burn down on holidays. He saw people lose everything. We really got big into trying to give back like that," Guy said. "The Thanksgiving turkeys started when he had a family, he saw their house burn down, I want to say it was on Christmas. Christmas Eve. House is gone. Everything is gone …. He bought a turkey dinner, some toys here and there and gave it to the family. From there on, [it became an] every year thing.
Guy wasn't alone in his giving back. For the second year in a row, Justin Bethel donated 1,400 turkeys and more than 40,000 pounds of produce to families in Lawrence. The Everybody Eats Turkey Drive on Nov. 24 was part of his mission to help communities dealing with food insecurities.
Finally, the Patriots Foundation hosted its 26th annual Thanksgiving in a Basket event, and Josh Kraft, Andre Tippett, Pat Patriot and Patriots cheerleaders were on hand to help. About 200 families were able to pick up a Thanksgiving dinner at Morgan Memorial Goodwill without even getting out of their car.
You can check out more photos in the gallery below.
For the 27th consecutive year, the Patriots teamed up with Morgan Memorial Goodwill Industries to provide 200 complete Thanksgiving meals to families in need at the Goodwill headquarters in Boston on Tuesday, Nov. 24, 2020. Josh Kraft, Andre Tippett, and Pat Patriot and Cheer were on site to help put baskets into recipients cars as they drove up.