Rain or shine, Patriots fans know how to stick it out for their team. Despite the threat of rain and the eventual downpour on Saturday, participants of the Hockomock YMCA's Integration Initiative trained their eyes to the field as players ran through a series of drills.
The Integration Initiative gives kids, teens and young adults with special needs and their families a chance to interact and build relationships with their typically-developed peers through comprehensive and unique programs.
"They're so excited to be here," Senior Director of Inclusion and Diversity Sheila Burgess said. "It's just a wonderful opportunity, and they really appreciate it too."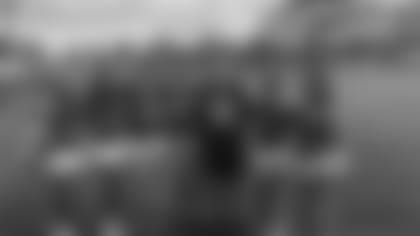 Though many of the day's participants kept their eyes glued to the practice field, there was a noticeable shift in energy as familiar faces from the Patriots organization both past and present walked by. There were audible gaps when owner Robert Kraft stopped by to shake hands and take photos, and there were plenty of cheers when former linebacker Tedy Bruschi and cornerback Ty Law waved hello.
The Patriots have built a strong relationship with the Hockomock YMCA in North Attleboro. Over the years, several Patriots have been honored at their Legend's Ball, which helps to fund the YMCA's programs like the Integration Initiative. Current players Devin McCourty and Matthew Slater have both been recognized for their work in the community, as well as former players like Rob Ninkovich and Nate Solder. This is the fourth year in a row that the Hockomock YMCA has attended Training Camp.
"It's so wonderful for the kids because they feel a sense of importance by having these relationships with these players," Sheila said. "I see the players; they look for these kids at events. So it gives them such a sense of being valued, and they don't get a lot of opportunity for that."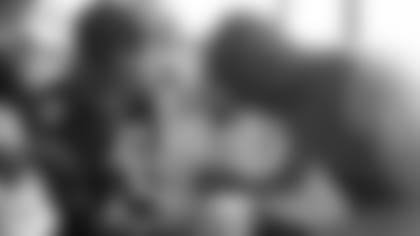 The ability for the participants of the Hockomock YMCA's Integration Initiative not only gain a sense of value for themselves, but they also learn to share that feeling with future participants. Some of those who participated in the program from a young age now work with the organization.
"It means that I am helping people out," said Martin Conroy who began participating in the program as a child and is now an employee of the YMCA. "Looking back at it at the end of the day, it feels like I've accomplished something."
As things wrapped up, the energy that ebbed and flowed throughout the roughly hour and half long practice increased as a few well-known supporters of the Hockomock YMCA made their way over. Devin, coach Dante Scarnecchia, Coach Brian Flores, Julian Edelman and rookie Ja'Whaun Bentley stopped by to say hi, sign a few autographs and snap some photos.
"It's a great feeling to know that you're being looked at as a role model and you have an opportunity to make an impact however big or small it is," Ja'Whaun said. "Having an impact on somebody's life no matter how big or small is something that you can't take back."
Though the rain started to fall on a very exciting day, it wasn't enough to dampen the moods of the community that means so much to the Hockomock YMCA.