It's been 10 years since the last time Aric Burklow was at Gillette Stadium, and on Sunday, this Patriots fan from Illinois had a special, full-circle moment when he returned. Growing up in Illinois, it isn't easy to get to Foxborough. In August of 2011, Aric made that trip, and it meant more than just seeing his favorite team play in person for the first time.
It was, quite literally, a wish come true for Aric, who at 15-years old, was battling cancer.
As part of Make-A-Wish, Aric and his family were able to fly out for a Patriots game and meet some of his favorite Patriots, including Bill Belichick, Tom Brady and Wes Welker. In a time of incredible personal struggle, Aric was able to have a day of pure joy as he met his idols. Even a decade later, he thinks about what it meant to him in the midst of his treatments.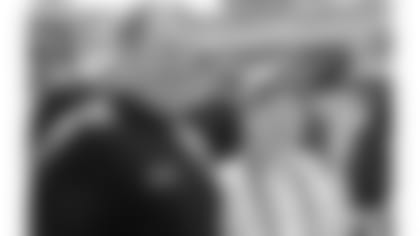 "It was something special to me. It kept me like motivated me because I was still going through chemotherapy," he said. "I didn't get in remission until around Thanksgiving."
For Nancy, the diagnosis was a world-shattering moment. There were plenty of difficult days, but on that summer day in 2011, Aric got to just be a kid.
"The worst words any parent wants to hear is that your child has cancer. Eric was 15 at the time," Nancy said. "We were just treated like royalty. It was just incredible. It was an amazing experience."
A decade later, now cancer-free, Aric and his mother, Nancy, returned to Gillette Stadium for the first time since. They flew out for the Patriots game against the Saints on Sunday and were surprised with pregame tailgate passes and even got to meet fellow cancer survivor Joe Andruzzi. The circumstances are different this time around, but after a difficult year for their family, the Patriots again provided some reprieve.
"It's been amazing. I see the smile on his face, and you know, with COVID and the other circumstances that we've been through, it's been tough," Nancy said. "Here he's just like acting like he's in his element. These are memories that will never fade. The Patriots organization has treated him like royalty once again, and we'll never forget it."