NASHVILLE, Tenn. - As he did when he played linebacker for the Patriots, Mike Vrabel found a way to liven up practice. Now head coach of the Tennessee Titans, who hosted the Patriots in joint training camp practices this week, Vrabel spent a considerable portion of the past two days in the New England backfield.
From there, Vrabel would signal instructions to his defense while occasionally chirping good-naturedly in the ear of Tom Brady. The quarterback proved, however, that he's equal to Vrabel's ribbing. Prior to Thursday's practice, Brady presented his former teammate with a small trophy, which appeared to represent a job well done by Vrabel's Titans in defeating the Patriots last season here in Nashville, 34-10.
The friendly jab seemed to imply that the Titans may have won that battle, but New England ultimately won the NFL war by becoming Super Bowl LIII Champions.
Brady wouldn't elaborate on the gesture when asked about it by reporters after practice, but praised Vrabel and his Tennessee players for giving New England a formidable challenge in their collaborative sessions this week.
"It was just really good work between these two teams who – you know, they took care of us pretty good last year," Brady acknowledged, "and we knew it was going to be competitive, so it's been a good couple of days… Very hard-hitting, hard-working, just a good, tough, hard-nosed team. I mean, you see it every day in practice with these guys. They've got a really good team. It's been a good couple of days."
"We had a really good day yesterday with Tennessee," head coach Bill Belichick remarked before Thursday got underway. "Mike and his staff have really been accommodating. We've had great cooperation with him, really everything we've needed. The competition, the work was good, so, we'll expand on that today, do a bit more in the red area and some two-minute situations. But, this definitely helps our football team, so we're excited to have another opportunity to do it today."
Only once Thursday did tempers between the two squads flare up, but even then, only mildly. During a Titans running play, CB Stephon Gilmore and a Tennessee receiver got a bit aggressive with one another, which led to several other players joining the scrum to push and shove momentarily.
Asked to comment on what was dubbed the "fight," Vrabel answered the reporter, "If that's a fight to you, man, you've never been in a fight. We just don't want any punches thrown."
And none were, in this case. The focus, as it had been throughout most of the rest of the session, was football. And with good reason.
Having to face the Titans this coming Saturday night in preseason game number two, New England will have a short turnaround when the Patriots get back to Foxborough to prepare for a visit by the Carolina Panthers next Thursday, a week from today. This might force the Patriots to put extra emphasis on their contest with the Titans.
"We'll try to get the most we can out of this week and then let's see," Belichick observed. "We'll worry about next week, next week. We have some things that we want to try to get accomplished this week in practice and in the game, and then based on how that goes, we'll go from there."
Might, for instance, Brady see more – or perhaps less – action in this weekend's game than he otherwise might have if this were a normal Thursday night preseason game?
"I don't know. I just expect to play," replied Brady, "and if [Belichick] says, 'You're not playing,' then I'm not playing. I think there's a lot of things that factor into his decisions, but I'm not involved in any of those, so I just show up and practice."
Brady was much more definitive when asked if he'd ever like to match wits with Vrabel from the sidelines.
"As a coach? Oh, hell no," he smiled. "I'm never coaching. Playing's enough for me."
Buy: Jamie Collins – After a mysterious absence from Wednesday's practice, the linebacker was back on the field today and taking part seemingly as normal.
Sell: The receiver position – Beset by injuries, this group was without the services of veterans Phillip Dorsett and Maurice Harris, as well as rookie N'Keal Harry, on Thursday. All are dealing with some sort of injury.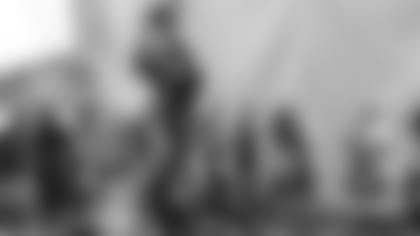 Play of the Day: Early in the second hour of practice, tight end Ben Watson managed to get free behind the Titans' secondary as Brady took a snap and faked a pass to the flat from around midfield. Brady then lobbed a precision pass downfield to Watson, who hauled it in and outran the straggling Titans defenders to the end zone. The play parked one of the biggest Patriots celebrations on offense Thursday.