Deion Branch grew up in Albany, Ga., and was originally selected by New England in the second round of the 2002 NFL draft. He was named MVP of Super Bowl XXXIX, but was later traded to Seattle in Sept. 2006. After a little more than four seasons in the Pacific Northwest, he was dealt back to New England in 2010.
What's your earliest football memory?
Playing little league football. Watching the Atlanta Falcons, the Houston Oilers … I still remember that playoff game [that they lost to the Bills, after being ahead 35-3]. I'm still hurting from that one (laughs).
Because they threw the ball a lot, and I was a quarterback (laughs), I know, believe it or not. All through Pop Warner, I was the quarterback. And Warren Moon was the greatest quarterback, in my eyes. That's what I remember, and winning the championship my first year. We went undefeated. Actually, I started as a receiver. One of my childhood friends was the quarterback. This guy - Derek Greene - was the best player I ever saw. This guy was unbelievable. He single-handedly beat a team by himself one day. We played with eight guys.
That's right, because a few guys didn't show up. They didn't want us to play at first, and this guy beat them single-handedly. I mean, I did my thing, but he was amazing.
Whatever happened to him?
He went on to high school ball, then college - Alabama A&M - but then the height thing kind of got to him. He never got a shot [at the pros]. I think he lost the love for it, too. I saw that happen to a few of my friends. They just stopped playing. Heart wasn't in it.
Do you keep in touch with him still?
Yeah, I just spoke with him before our game [against Buffalo]. I talk to all my guys. I have the same friends.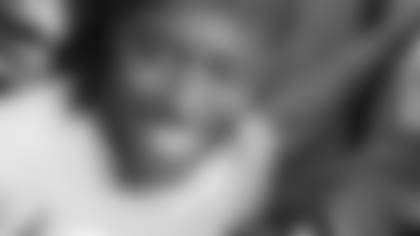 Do you remember your first big play?**
Oh, yeah, I remember all of them (laughs). I know I talk about little league a lot, but those years made me into the man I am today. Yeah, I made a lot of big plays. Our favorite thing was the 38 sweep. [As the QB], I would just pivot and follow the running backs. That was one of my favorite plays. I scored numerous touchdowns off that.
What was it like putting pads on for the first time?
Yeah, my Uncle Reginald is probably my biggest fan, by far. And he taught me pretty much everything about football. I was always smaller than everybody else. His thing was, "They put their pads on just like you. Don't fear these guys." That always stuck in my head.
(laughs) First real job was Hardee's. My first fake job was working for my dad. Washing cars and stuff.
Yes, sir. He sold cars, too, and owned a detail shop. But my first real job was Hardee's. I loved it, too. I pretty much ran the whole store, my sophomore, junior and senior year in high school. I had so much fun in my dad's shop, being around family. Then I loved the people I was working with at Hardee's. That's why I stayed so long. You start off doing burgers, then chicken…
Yeah, and sometimes worked out front with the customers. I was pretty much all over the place.
What was your first ride?
A 1975 Chevy Caprice convertible. Red, with a white top. And I just found one … I've been looking for that car since my dad sold it. Not that particular car, but another '75. I love old school cars, put my own magic on it. I'm already working on [the latest one] now. I also have a 1970 Cadillac Coupe de Ville. You come to my garage, it's interesting.
How many cars do you have?
Five - two old ones and three other new ones. But I like the old ones better (laughs)! And putting my flavor on it.
What was it about that first one?
My dad bought it and was trying to sell it. I went up to the shop and took off in it. He said, "You want to keep it for a little while?" I was like, "Yeah." That ended up being two years.
Who was your first crush?
Oh (laughs) ... that's a hard one.
Why, was there more than one?
Uh, yeah! (laughs) Back in high school. There were a bunch. One girl named Miranda, then this other chick, Tatiana. These girls were older than me, so, I never talked to them. They were seniors, I was like a freshman or sophomore. To this day, they're killing themselves now (laughs)! I still see them when I go home. We sit around and trip about it now. They're both married, have kids, families. They knew I liked them. They both knew. They're hurtin', not me. (laughs)
How about your first date?
I took her to Applebee's or something. That was big, though! You know, going to Applebee's in high school …
A lot of your teammates say they're scared to fly. How do you feel about flying?
I'm cool with it. I remember being in the airport for the first time, going on a recruiting trip, and there were all these little kids. I thought, "If they could just get on a plane and not be all scared, I shouldn't either." That's the initiative I took, because I was scared at first. And as I got older, I realized, if it's your time, it's your time to go, regardless.
Aside from England, ever been outside the country?
Yeah, Jamaica, Bahamas, Turks and Caicos … the Caribbean is my go-to spot. If I was still single, I'd go there in the offseason more!
Yeah, I love dogs. None now. My wife and kids are trying to talk me into it. The kind of dog she wants, I'm not a big fan of that: a shih tzu. I'm a Rottweiler guy. In high school, I had a dog, Snuggles. He was a Chow. In college, I had two Rottweilers.
If I could give you any skill or talent you don't have, what would you want?
I think I'd want to read minds, like on the X-Men [comic book series].
If you could trade places with anyone for a day, who would it be?
Barack or Jay-Z. Just to see what that life is like.
If you could play a character in a movie, who would it be?
Oh, Denzel [Washington], in, like "John Q" or Will Smith in "The Pursuit of Happiness."
When we make the Deion Branch life story, who plays you?
(laughs) It doesn't get any better than Denzel. He can do it all.
If you could be in a band or musical group?
Oh, André 3000. Outkast, those are my guys from back home.
I could see you in Outkast. Can you sing?
Yeah, I can do a little bit. I can rap, rather. I did some stuff with my high school home boys, Field Mob. Did a few tour dates with them. Went on stage and performed. The rap lifestyle is amazing. Yeah I went to school with them, played high school ball … but the hip-hop lifestyle is draining. They had 22 tour dates scheduled. I did about seven. I couldn't do anymore. Done. I lost about 15 to 20 pounds. It's just constantly up moving around, traveling, bad food. You wake up in the morning, go to the venue, do the mic check, go back to the hotel, go the radio station [to promote the show, go back to the hotel, go back to the venue, sit backstage, go out and perform, leave the venue for the after-party, leave the after-party to fly to the next city, land and check into the hotel. You do this over and over, no sleep, bad food. And then if you're consuming alcohol, that adds to it. Oh, it's bad.
If you weren't playing pro football, how would you make a living?
Hmmm … playing soccer. Yeah. I was going to make it in one of them. I promise you. Soccer was my first love. I watched the Chelsea-Man. U. game the other day. I'm going to try to go down to Brazil for the World Cup [in 2014]. That's going to be crazy!
If you could meet anyone in the world, any point in time, who would it be?
Probably Miss Oprah. Yes, I would love to meet her.
Do you have any guilty pleasures?
(laughs hysterically) No … no!
The laugh came too quickly. That means yes..
No, man (laughs more) … I'm gonna skip that one!!