With the Patriots knee-deep in the 2017-18 season, the focus is no longer on Super Bowl LI. The comeback, the sweet taste of winning a championship is all part of the fabric of last year.
But for James White, whose standout performance set Super Bowl records, got the Patriots across the goal line and changed the course of the game, the attention he has received since Feb. 5 is still new. So last week, the Patriots running back penned a story for The Players' Tribune about the past few months. 
The essay details his football career as a member of the "running back committee." James put his head down, did his job and snuck under the radar. Though he felt he was good at his position in high school and college, there was always someone ahead of him, including Giovanni Bernard, who now plays for the Bengals. 
James and Gio grew up together, and while Gio got more reps on their high school team, instead of becoming bitter, James developed the quiet focus and determined work ethic that has since defined him. 
"But I think playing with someone as talented as Gio helped me learn how to put my ego aside. If I got down because Gio had a better game or got more carries, I probably would never have become the player I am today," James wrote. "I learned right away that you can't be envious of a teammate's success, because that's unproductive. I let Gio's success inspire me to do better, and, eventually, we both ended up getting where we needed to be."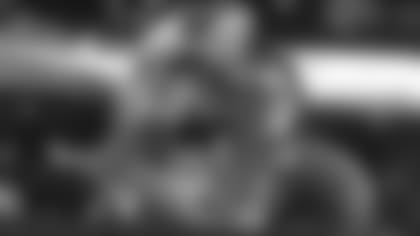 By the time he graduated high school, James had a "team before self" mentality, one that served him well at Wisconsin. There he played with three other running backs who would also make it to the NFL -- Montee Ball, John Clay and Melvin Gordon. 
Still the split time didn't discourage him. When James did get the ball, he wanted to make an impact. He wanted to help the team win. 
"But I'm glad I had the experience I had at Wisconsin because I ended being drafted by an organization that not only discourages selfishness, it absolutely will not tolerate it. When you play for the Patriots, there's never any second-guessing what the goal is," he wrote. "There's no questioning your role or how you're used. You take direction, you practice and you execute. That's how you win Super Bowls."
Even with a 25-point defecit, James wrote that there was no dramatic moment. It was just pure focus. 
So when James was the one who put the ball across the goal line, the media frenzy was immediate. And it was nothing that he was used to. 
"I can see how those who aren't prepared for the spotlight can get overwhelmed by it. I guess that's why I'm glad my entire life had prepared me for my moment," he wrote.