Patriots Jimmy Garoppolo and Bryan Stork took a break from practice to help local high school students hone their football skills. 
About 150 students from Boston and Chelsea, as well as Cotting School in Lexington, attended the AccesSportAmerica football clinic at Harvard Stadium on Wednesday morning. AccesSportAmerica was founded by Ross Lilley to inspire "higher function and fitness for children and adults living with disabilities through high-challenge sports and training," according to the non-profit's mission.
The Patriots, along with the Harvard football team, were on hand to run through drills with the students and provide encouragement. Drills included passing, kicking and punting, strength and an obstacle course.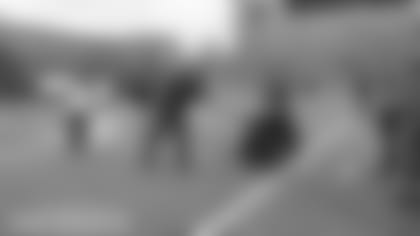 In his second year volunteering for the event, Jimmy spoke to the participants and said he was excited by what he saw on the field. 
"We had a great time. [There was] some impressive throwing out there today ... We love coming out here with you guys," Jimmy said. "It's a really cool atmosphere, and it's a great thing we've got going on."
Bryan said he saw "some good cannons" during passing drills. More than talent, he said being able to see the students having fun was rewarding.
"It's a lot of fun to see all of the smiles on the kids' faces and just watch them be happy and get out of school or whatever they're doing and have a good time with us. It's a lot of fun," Bryan said.
Check out the full gallery from the AccesSportAmerica clinic below. 
Jimmy Garoppolo and Bryan Stork took some time Wednesday to volunteer for an AccesSport America event at Harvard.