It's been 10 years since Joe Andruzzi was diagnosed with non-Hodgkins Burkitt's lymphoma, forcing him to retire from the game he loves. His world was flipped upside down, and Joe learned how a cancer battle can challenge a patient and a patient's family in ways he couldn't have anticipated.
But a decade after his diagnosis, Joe finds himself cancer free and back on the sidelines at Patriots training camp. Instead of suiting up, he is spreading smiles, sharing laughter and creating memories with cancer patients and their families through the Joe Andruzzi Foundation. The organization paid a visit to camp on Wednesday as a guest of the New England Patriots Charitable Foundation, and Joe was accompanied by people who are being treated for cancer and their friends and families. 
The Joe Andruzzi Foundation was founded in 2008 by Joe and his wife Jen to help relieve the financial burden of cancer patients and their families. The foundation pays off bills that are often not in the forefront of a family's collective mind during treatment, like utilities and mortgage. 
But beyond that, they take their motto "Upbeat Cancer" seriously. The foundation sponsors trips and outings that will create positive and happy moments for those battling cancer.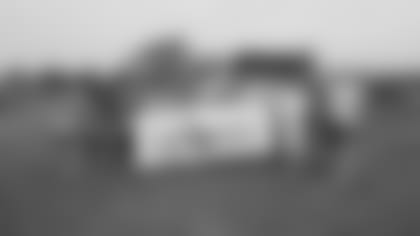 "I was in that hospital room. Those walls close in on you," Joe said. "Those are things that they can talk about when they go for their next treatment, tell the doctors, nurses and friends. It's going to keep that smile going for days after."
The foundation organizes other events, like boat cruises, trips to the circus and to Red Sox, Bruins, Patriots and Celtics games. While Joe said Jen is the "heart and soul" of the Joe Andruzzi Foundation, the Andruzzi family learned from the Kraft family how to give back to the community and to pay it forward. 
This year makes it the sixth time the New England Patriots Charitable Foundation has invited the Joe Andruzzi Foundation to its training camp tent, and Joe said he is thankful to be a part of the Patriots family and to have these opportunities available for his foundation. 
When it boils down it, Joe said, a day out of the hospital and spending time with friends and family make all the difference in a patient's fight.
"To stay upbeat and positive is truly the hardest thing during a cancer battle or any other type of sickness or illness, to keep moving forward and to keep making yourself better," Joe said. "Something like this, to see the smiles on their faces, it goes a long way. It releases those endorphins to help you heal and I truly believe in that laughter is our best medicine. Those memories go a long way not only for the patients but for their families." 
RELATED LINKS