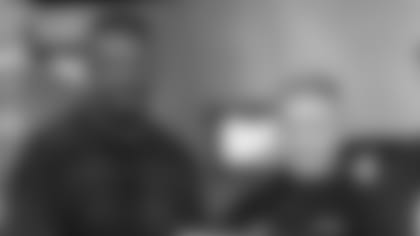 ]()Foxborough, Mass. - Less than two weeks after winning the MIAA Division I Super Bowl championship at Gillette Stadium, Everett High School's Head Coach John DiBiaso has been named the New England Patriots High School Coach of the Year in recognition of his team's undefeated season and their Super Bowl victory. The New England Patriots Charitable Foundation will donate $2,000 to Everett High School's football program in DiBiaso's name in recognition of his Coach of the Year selection.
DiBiaso and some of his players - Manny Asprilla, Nick Chiarello, Matt Costello, Jonathan DiBiaso, Vondell Langston and Shaquille Taylor - along with Assistant Coaches Mike Milo and John Cappra were guests at Gillette Stadium on Wednesday to receive the award. They will be featured on the team's weekly television magazine show, Patriots All Access, which airs at 7 p.m. on Friday, Dec. 17 on WBZ-TV in Boston and later on Patriots.com.
Each week this season, one Massachusetts high school coach has been awarded the New England Patriots Coach of the Week honor, culminating with this week's Coach of the Year award to DiBiaso. This season marks the 15th year in which the Patriots have joined the National Football League in conducting the High School Coach of the Week program, which recognizes outstanding high school coaches and promotes youth football throughout New England. Patriots and NFL Hall of Fame linebacker Andre Tippett, the team's executive director of community affairs, oversees the program as part of the New England Patriots Charitable Foundation's commitment to youth football initiatives.
"This was the perfect season for the Everett High School football team," said Tippett. "They finished 12-0, winning the Massachusetts High School Division I Super Bowl championship. They took last year's Super Bowl loss versus Xaverian High School and used it as a teaching experience and inspiration for the following year. To go 12-0 takes a strong commitment by a dedicated group of players and coaching staff who never took their eyes off the bullseye. We congratulate the Everett High School Football team and coaches on a job well done from start to finish this year, and are happy to honor Coach DiBiaso with our Coach of the Year award."
The New England Patriots Charitable Foundation is the non-profit through which the Patriots support charitable and philanthropic organizations throughout New England. This support comes in the form of direct grants, in-kind donations and player appearances. The foundation assists a variety of charitable organizations and programs throughout New England by supporting their educational, family and health initiatives.