Three weeks after resuming practice, it's still unclear whether or not Chandler Jones is ready to play in a game. A week ago in San Diego, the defensive end made his first public comments since injuring a hip in Week 7. He reiterated Friday in the Patriots locker room that he's still itching to get back on the playing field, but wasn't willing to declare himself in or out.
"I've been out for a little while, as we all know," he began. "I've been wanting to play for the longest time. The competitor that I am, just being around this team is a great feeling. Like every day I'm just doing what I can do to help the team."
Jones has come back from ankle and knee injuries in previous seasons, dating back to his college days. This current hip issue, however, is by far the most serious, he acknowledged while trying to stay positive about his future playing prospects – whether that's this Sunday against Miami or later this season.
"Just moving forward," he continued. "The biggest thing is just moving forward. Not trying to focus on being injured, but just moving past it."
In Jones' absence, newcomer Akeem Ayers has been getting considerable playing time and making plays, which has helped the Patriots defense weather the loss of their best pass rusher.
"Akeem has been playing great," Jones added. "He's a great player. He's a great pass-rusher, he's been doing good in the run. I'm a big fan. He's been playing great for us and hopefully it keeps up."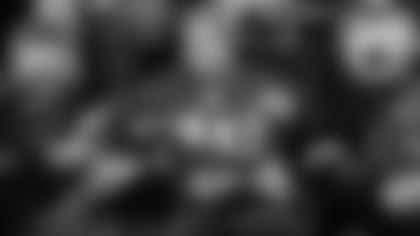 Wilfork: Collins "something special"
Vince Wilfork came in from practice wearing his number 75 jersey with the number 7 having fallen off from the front. Only a silhouette of the digit remained.
"Time for a new jersey," a reporter asked the co-captain.
"Nah," he replied, "this is the same jersey I've always had. Eleven years."
Wilfork clearly has a fondness for the article of clothing, but also for one of his teammates: linebacker Jamie Collins, who had a career day last week against San Diego. Collins called the defensive signals in place of injured Dont'a Hightower and led the team in tackles.
"I've seen it from last year to now. It's unbelievable what we ask him to do, and he steps up every week. Last week was a big week for him," Wilfork remarked, "with Hightower not playing and his stepping into that role, the quarterback of the defense. He did a great job. It just goes to show you the important of just working, being focused, coming to work, and getting the defense run the right way. It shows you how committed he is to being a great football player.
"We love everything about him. It's good to have a guy like that on our squad. We can move him around different places and get a lot of production out of him. Makes it tougher for opponents to game plan what we're doing."
The second-year linebacker has earned the reputation as the most athletic player on the roster. Wilfork, a defensive lineman, is also known as one of the more athletic players on the Patriots, but he conceded the top spot to Collins.
"He's something special. But… I'm something special, too," Wilfork chuckled. "No, I think he's pound-for-pound the most athletic guys we have. The things he does, the way he can move, run, jump, I mean, it's amazing.
"I give that nod to him. But right under him," he stressed with a smile, "is me."
New England was down a pair of defensive lineman at Friday's practice. Rookie Dominique Easley (knee) continues to be absent, and today he was joined by practice squad man Joe Vellano.
RB LeGarrette Blount, meantime, missed one practice earlier this week, but that was for non-injury reasons. He said Friday he's feeling as good as can be expected this late in the season.
"I feel real good. Not a lot of running backs that feel at their best at this point in the season, but I feel fresh."