Josh McDaniels is used to pressure. When the game is on the line, he is the one in Tom Brady's ear, but on Sunday afternoon, he took on a new kind of challenge, one on a race track. 
Josh served as the honorary pace car driver at Overton's 301 as part of the Monster Energy NASCAR Cup Series in New Hampshire. He said getting to the track has become a tradition for his family, but this was the first time he's gotten behind the wheel of racecar. 
While it was Josh's first time driving on the track, he isn't the first Patriot to try his hand at the New Hampshire Motor Speedway. In previous years, Julian Edelman and Rob Ninkovich have driven the honorary pace car, and in a press conference beforehand, Josh said both offered a bit of advice for his first time. 
"Julian and Rob both said to be careful of who's behind you because they said they both got tapped on a couple of those laps, so we'll see if that happens today," Josh said.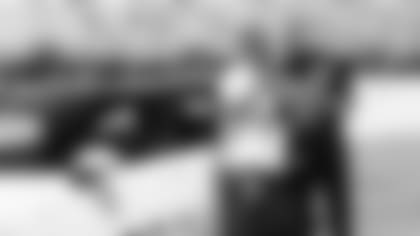 Though Josh wasn't necessarily racing, he did say which of the Patriots he could see dominating the race track. No surprise, it's Tom. 
"Brady would be as competitive as anybody. If you play cards with him, he wants to kick your butt. It doesn't matter what the competition is – ping pong, pool – but if you put him behind a race car, I'm sure he would try to master that skill just he's like he tried to master the skills that are really important in his sport too," he said.
As for the one player he wouldn't want to see in a race car, Josh didn't even hesitate in his response: Gronk. To be honest, we can't really blame him. 
After the race was over, Josh stuck around to see a Super Bowl bet between the New Hampshire and Atlanta Motor Speedways be fulfilled. Ed Clark, the General Manager of the Atlanta Motor Speedway, delivered a case of Georgia peaches to the team at the New Hampshire Motor Speedway, as promised in the days before Super Bowl LI. Ed was in a Brady jersey, too, just to make the moment even sweeter. 
You can check out a video of Josh behind the wheel below.