While some people's love for their favorite team begins **when they're young**, others find themselves drawn to it later in life. For one Patriots fan that lives 5,000 miles away from Foxborough, fandom came in the form of a blanket.
Eti Dror, a resident of Tel Aviv, Israel, became a fan of the Patriots after seeing a video of** Julian Edelman visiting her country** on Facebook. With the international view of Israel constantly changing, Eti felt she needed to thank him for visiting her homeland. The wheels in her head began to spin. 
"I was so moved and I was so touched by it because I live in Israel and to see how he described Israel in such a positive way…" Eti said, explaining that she decided to crochet a blanket for the wide receiver. 
Before making the blanket, though, Eti didn't know anything about the Patriots, much less American football. To make sure she did the project justice, the 39-year-old mother of one read as much about Julian, the team and the game as she could. Through all of her research, Eti, who has never been to America, fell in love with the team and everything it stands for.
"After four and a half months that I dedicated to this project…I really started to understand the fans and the loyalty to the team," she said.
Eti, who learned to crochet from her grandmother when she was young, worked on the 5-foot-5-inch by 4-foot-9-inch blanket an hour to two hours each night after coming home from her full time job in a shipping and customs agency. After considering five different designs, including a squirrel and Julian's Minitron meme, Eti settled on one that showed Julian standing in front of a large, brown number 11. The white blanket has a red, white and blue border that frames Julian and the words "#Yalla, Let's Go!" which was the theme of the video he released of the Israel trip.
"This was the most challenging blanket I've ever done," Eti noted.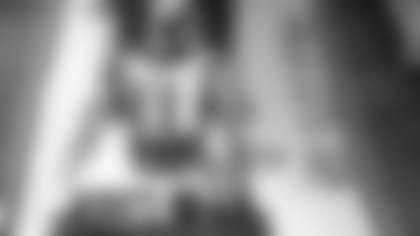 Eti's blanket impressed many Patriots fans in Israel and she received an offer to make a copy of it for more than $1,000. Though tempted, she turned them down and insists that the blanket is one of a kind. Through a social media contact, she was able to get the unique creation to Julian, who was all smiles when he received it on February 25. 
"It's really, really, really about the meaning and the inspiration and the need," she confessed. "I wanted to send him [Julian] something really from my heart and this is the only way I know how do it."
Although the blanket is what introduced Eti to Patriots Nation, she now considers herself a fan for life and plans to cheer the team on from Tel Aviv next season.
"I don't know if I'll watch every game because of the time difference," she joked. "But I'm sure I'll keep up with the scores."