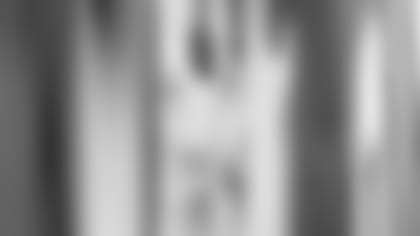 ]()
            (March 12, 2003) -- Every time quarterback Kliff Kingsbury resets a passing mark, it sounds like a broken record.  

Seventy-two of them to be exact.
Kingsbury thrived in a pass-happy offense at Texas Tech and pretty much wrote the record books himself. The breakdown is as follows: 39 school records, 16 Big 12 Conference records and 17 NCAA records. He has completed more passes (1,231) than anyone else in Division I history, and no one has ever had a lower interception ratio (2.1 percent) with at least 400 completions.
The most prolific passer in the history of the prestigious Big 12 is ready to take his show to the next level. The Texas native has spent four years in two different offensive systems for the Red Raiders, and he feels the experience gained will take him to the NFL. Kingsbury simply put it, "I'm just happy to get the opportunity and I want to show everyone what I can do when I get there." ]()
            Growing up in New Braunfels, Texas, a town of about 40,000 people just 48 miles south of Austin, Kingsbury was a University of Texas Longhorns fan -- as was just about everyone else in the area. But the 6-foot-3, 213-pound Kingsbury was not highly recruited and he was too stubborn to leave the state. The UTs and Texas A&Ms would not be in the cards. He did take one recruiting visit to Mississippi State, but it was the Lone Star State or bust. If it weren't for Texas Tech, a junior college would likely have been the answer.  

At the time, the Red Raiders were an above-average team coached by the veteran Spike Dykes. And the offense was actually run-based. Kingsbury had been working out of the shotgun since high school and he would be taking over the reins at a school that played just as much smashmouth football as the rest of the conference.
Freshman year was average, a 6-5 record and 492 yards passing as the backup to Rob Peters. Sophomore year was a little better with a 7-6 record and a 40-27 loss to East Carolina in the Galleryfurniture.com Bowl. Junior year brought about a change in leadership and playing styles. Mike Leach replaced Dykes, who retired after 13 seasons, and implemented the spread offense. Since the Red Raiders couldn't beat the conference on the ground, Leach would try through the air. It was back to the shotgun.
"It was like a whole new world," Kingsbury said. "Coach Dykes was a great coach who had a run-based offense. Then coach Leach comes in and we throw it every down. I felt that system fit me a lot better. It's a lot of quick decisions and getting rid of the ball, make a good read, and that's what I specialize in."
That year, Kingsbury had even more completions, touchdowns and yards despite throwing the ball less. He was more consistent and it extended to the rest of the offense. There was one primary passer (Kingsbury), one primary runner (Ricky Williams -- not the same as the Dolphins' runner), and six contributing receivers. The team's regular season record that year was 6-4 heading into the Alamo Bowl against Iowa.
The Alamo Bowl, played in San Antonio, was a homecoming for Kingsbury. As close as he was to Austin growing up, San Antonio was only 31 miles from New Braunfels. That meant all of Kingsbury's friends and family would be there to see him. It was a close game, but Hawkeyes kicker Nate Kaeding nailed a last-minute field goal to beat the Red Raiders 19-16. Another disappointing end to a great season.
Senior year -- the year all college football players want to prove themselves and win that last big game. And Kingsbury did as much as he could. He threw even more passes, completed more of them, accrued over 5,000 yards, and connected for more touchdowns than before. The team even took down arch-rival Texas for the first time in four years. That was all topped off with the big one, a 55-15 thumping of the Clemson in the Tangerine Bowl.
"It was nice because we hadn't won a bowl since I had been there," Kingsbury said. "We really wanted to get that stigma off our backs. It was fun to send the seniors out on a high note."
When the smoke cleared from his red-hot season, Kingsbury had become a passing sensation the country had not seen for years. All told, he finished in Lubbock as the leader in just about every single quarterback statistical category. Kingsbury also left the Big 12 as the all-time leader in passing yards, a record shortly held by Texas' Major Applewhite. He also became the all-time completions leader in NCAA history. But why wasn't Kingsbury the happiest guy on earth?
"I knew as much as we threw the ball, I was going to break records. So I kind of took it with a grain of salt," he said.
Being a record holder wasn't the pinnacle of Kingsbury's career. The end of the football season was just the start for him. He was named the Verizon Academic All-American of the Year. Sporting a 3.78 grade point average in Management, Kingsbury earned the nation's highest honor for a student-athlete. But it didn't stop there; one more honor was up for grabs. It happened to be the one Kingsbury sought after the most -- first team All-Big 12 voted on by the coaches.
"Being named first team All-Big 12 by the coaches is really something because the coaches recognize you for what you can do," said Kingsbury. "When the coaches you're playing against give you that honor, it really means a lot. If you're first team in that conference, you're doing some good things. I was really appreciative of that."
Kingsbury is a smart guy, but brains alone will not earn someone a spot on an NFL roster. And unfortunately, some of Kingsbury's critics said that his brain is his best feature. He is a the product of the system, he can't take snaps from under center, he doesn't have enough arm strength, he is too thin for his height. And the list goes on and on. But if you look hard enough, you are going to find fault with everybody in the draft.
"I've never bought into those arguments," Kingsbury said. "I don't think I can say anything. Once I get (to the NFL), I'll have my chance to prove them wrong. I'm just happy to get the opportunity and I want to show everyone what I can do."
In an attempt to ready himself for the NFL Scouting Combine, his Pro Day in Lubbock, and the draft, Kingsbury and his agent, Vann McElroy, retained former longtime NFL quarterbacks coach Jerry Rhome to work with the draft hopeful on snaps and basic footwork involved in getting back away from the center. And for Kingsbury's Pro Day on March 11, a receiver had to be flown in because Texas Tech did not have any healthy senior wideouts on the team. When you have a shot at the NFL, you pull out all the stops.
After four years of collegiate domination, it is now time for Kingsbury to show what he can do at the professional level. Not projected as one of the top QB prospects, cracking into the NFL as a backup does not bother him. It has worked out for at least one notable backup from last year.
"Look at what Chad Pennington did. He got to sit behind a great quarterback in Vinny Testaverde, learn the system, now he's lighting it up. Sometimes that can be the best thing for you," Kingsbury noted.
But as far as even making it to the pro ranks, that all depends on Kingsbury. Scouts and coaches will have to look at his recent workout performances rather than his accomplishments.
"I don't buy too much into what the (draft) experts think as much as what the teams think," Kingsburgy said. "I talked with some scouts, but all you need is just one of the 32 teams like you. I'm just waiting to see how that goes because it's wide open. I hope someone takes me."
When teams find out how smart Kliff Kingsbury is and how well he can fit into a system, then that is all he wants. Just a shot to make a name for himself in NFL and hopefully break some more records