It was all hands on deck for Day 4. Full Patriots team access at the hotel, PFW in Progress and taping the PFW TV show for CSNNE. But as I sit down to write this the one event from the day that has me fuming was the Commissioner's annual Super Bowl press conference.
Of course the topic of Deflategate came up and Roger Goodell has no regrets. "A violation occurred" said Goodell. And apparently everything that followed was just fine.
I'm still trying to figure exactly what that violation was. The PSI numbers that were ultimately released from the league tied together with the proven science that countless experts presented, proved that there was no violation, at least on this day when it came to under inflated footballs. That's what the Patriots were accused of, right?
The answer is yes. So based on what we know for sure -- again, the actual PSI numbers and science -- Goodell and those around him were comfortable calling Tom Brady a cheat and a liar. It's the tone-deaf dismissal of how that affects Brady, or any individual, that is so deplorable. There's just no getting around it for me:  the NFL is OK calling Tom Brady a cheat and a liar based on a violation that was completely disproved or at the very least miles away from more likely than not.
Telling us the quality of play on Thursday nights is high or that fans want an 18-game schedule can be labeled PR spin if you will, but impugning the character of one of your players based on flim-flam evidence is deplorable. This is less about Brady and more about simple justice and what's right. That it is our Tom makes Goodell public enemy No. 1, at least when we turn our attention to the NFL.
One of the worst kept secrets was announced today, the Patriots will play the Raiders in Mexico City in 2017. No word on the date yet. I can't think that far ahead although it would be nice to go down there as reigning champs.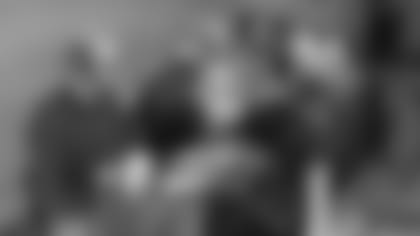 Still no live audience for PFW in Progress, despite being in the hotel lobby. Frankly, other than Patriots personnel, I didn't see many "civilians" walking around. Thursday will be a different story. We're told to expect around 600 people clamoring about. That said, they'll probably be more concerned with finding luggage and checking into rooms than listening to us argue the merits of the 5-1 defense.
As far as what the two teams are discussing, this week as been low key. Both teams are doing a good job saying the right things and avoiding making headlines or creating distractions. Like Bill Belichick, credit Falcons head coach Dan Quinn for setting the tone with his team.