First up was PFW in Progress which aired at 10 AM local time. Due to the size of the team hotel, we were limited in our options to set up our broadcast. We landed on a spot in the hotel lobby next to a non-Dunkin Donuts coffee shop. Side note:  Houston needs more Dunkin Donuts. I hear rumors of some but I've yet to see any. They should adopt the New England statute of a minimum of one per mile.
Anyway, being in the middle of the lobby in team headquarters, I figured we'd have a live crowd for the show. Other than a guy reading and sipping on his non-Dunkin coffee, it was just us. I know it wasn't quite Opening Night, but c'mon. It's probably for the best because about 10 minutes into the show, Andrea Walonis from Finance walked by and tripped over our power cord. Since the cord was taped down pretty tight the prongs from the plug bent on the way out. Producer Kevin Collins scrambled to get them bent back and within 30 seconds or so we were once again live.
The show continued with Patriots great Andre Tippett stopping by. Good chat about what it was like for him during the 2007 Super Bowl waiting for his Hall of Fame vote and what advice he gave to Ty Law who is going through the same process right now. I wish there was a place I could drive fans to help out Law but this isn't the Pro Bowl. His fate is in the hands of a 46-person committee and how well someone can advocate for his selection.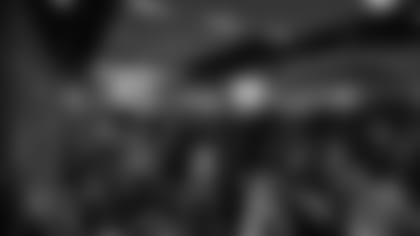 We rolled into the first of three Patriots media availabilities at the hotel. It's actually set up in the Liberty Building, next door and where our work area is set up. Bill Belichick kicked it off on the main stage and then 10 players, including our man Tom, sat at podiums, similar to Opening Night.
If you were on Patriots.com, you saw a very cool presentation of six live feeds on the home page. By hovering over one, the audio would activate. Click on one and it goes to its own screen. If you missed it, you'll get another chance on Wednesday and Thursday.
While I like the access, it's overdone. Between the three days at the hotel and Opening Night it's too much of the same thing over and over. For the three days at the hotel I would do defense on Tuesday, coaches on Wednesday and offense on Thursday. Either that or someone in a military-type uniform should stand by each podium and when a media member asks a repeat question he would yell, "Question previously asked! NEXT!" I'd also like to turn the podiums into dunk tanks that are triggered when certain words are spoken but that's a subject for another day and probably Opening Night.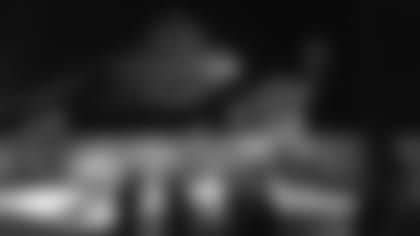 The annual media party was held at Houston's Museum of Natural History. As museums go, this one ranks among the nicest I've been to. Excellent layout and exhibits; the dinosaur section is amazing. Unfortunately they didn't allow us media slobs up to the third floor and the Egyptian section but everything else I saw was top notch. Everything is bigger in Texas and that apparently goes for their museums as well.