Day 5 is arrival day for the majority of the friends and families of the team. We were in the second hour of PFW in Progress when the tidal wave hit the shore. As I suspected, all but a few of the arrivals could not have cared less that we were doing a show. Some walked up to see what was going on and yes, we did have another plug incident because someone stole the chair we had guarding the outlet.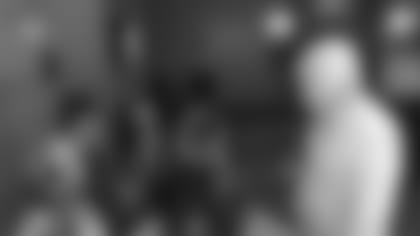 The highlight of the show was Robert Kraft stopping by. Check it out on Patriots.com.
In the hotel lobby there is a big sign with an arrow that says "Patriots Tickets." It's wayfinding for all the guests on where to pick up their Super Bowl ducats. Obviously the thought was that the only people in the hotel would be people who were supposed to be in the hotel but sure enough, at least one person walked into the room asking, "Any tickets for sale?"
"No sir, this is for guests only."
"That's OK. I'll be coming by every day just in case."
With that he was gone. Don't know where he came from or who he was but he certainly felt he was in the right place.
I was thinking about Martellus Bennett and his NASA cap. Bennett had his time at one of the main podiums during Patriots media access yesterday and once again he was showing his love for our space program. He's been wearing it all season and I always chalked it up to him being someone who is open to all the possibilities of the universe and eager to learn as much as he can. NASA is making a comeback in terms of popularity. I see more and more kids wearing gear from grade school to college. Like a lot of things, it's not until we lose it or there's a threat to lose it that we truly appreciate it.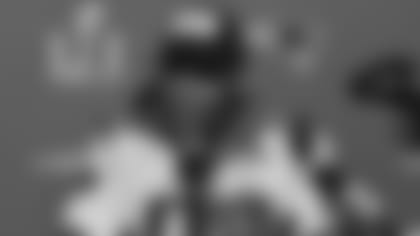 When asked about the hat back in September, Bennett explained, "I do like outer space a lot, and after watching 'The Martian,' I'm trying to science the s--- out of this game plan."
But maybe there's more to Bennett's space hat. He's worn it since training camp; could it be that he's had his eye on Houston since then? I asked him that question at his last media availability today. He wouldn't take the credit and instead stuck to his love for space.
Marshall Faulk still thinks the Patriots taped the Rams Super Bowl practice in 2001. That's what he said today. I never doubted he did. When you go into a game as a 14-point favorite with a high scoring offense and get held to 17 points in a loss there's a tendency for excuse-making for the weak minded. If believing tape of a walkthough is the reason he lost, good for him. I think it had more to do with Willie McGinest and others limiting his production but that's just me.
Tomorrow we're heading into the NFL Media Center and Radio Row for the first time. We'll see what kind of trouble we can stir up.