In their first full day in Indy, the team is in full swing. A padded practice at the Colts facility (you can see an exclusive look at it on Patriots Today with Brian Lowe) followed by more pressers and team meetings.
Today's media session took place at the NFL Media Center where earlier, I made a trip to check out what was going on. Radio Row is always an interesting take. This is where radio stations from across the country set up shop and broadcast for the week. It's literally rows of tables with microphones and banners bearing call letters. Said hello to the local guys from the Patriots flagship station, 98.5 The SportsHub. Scott Zolak was doing his midday show. He recommended the Reuben sandwiches being served to the media. Unfortunately I had just eaten.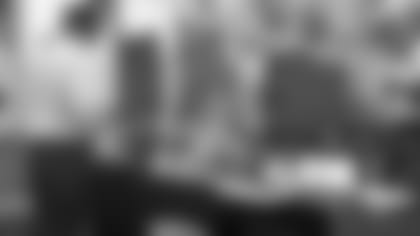 It's always been fascinating for me to contrast the radio and TV cultures. Radio guys (and gals) are much more brash and in your face. Maybe it's the caffeine. Or maybe it's the fact that it's all about their voice and what they have to say and nothing about how they look or what they can show on the screen. No prompters, no scripts. It really is more of a jungle as Jim Rome would say. And it's definitely more real. Radio people are who you would meet in a sports bar (or a bachelor party). There are some personalities who can thrive in both cultures but making it in radio requires a certain amount of spunk.
The story of the day, besides the future of Peyton Manning (more in a bit on that), is Bill Belichick. There is something going on with him. Yesterday I mentioned how this season's locker room has a different feel about it. Well, Coach Belichick of the past few days does as well. If you haven't already watched today's press conference, please do. Apart from the occasional Friday when reminiscing of days gone by, I have never witnessed him so willing to answer — at length — every question posed. Maybe the strategy is longer answers equals fewer questions, but it was different. I was particularly surprised when Belichick chose to talk about how he explained to Josh McDaniels when he returned to New England that their relationship would be a little different now that McDaniels has experienced being a head coach. I'm telling you, watch today's presser and see what you think.
I mentioned Peyton Manning above. Talk about his situation dominates. I asked our driver from the airport on Saturday what people are thinking and he said it's about 50/50, stay/go. To me that says fans out here are starting to move on and realize Manning isn't the future and the future is now as long as the Colts hold the winning ticket in the Andrew Luck sweepstakes. That plus saving $28 million to be used elsewhere has saved Colts owner Jim Irsay from a PR nightmare. There's no need for the media to build up this story. Just go with it.
Next up is filming the PFW TV show here at the hotel. We're going to be winging it. I have no idea how it's going to turn out. Kind of like Manning's future … and the game coming up on Sunday!