Media Day madness. Actually, media day is more of a cliche than anything else with the usual assortment of ex-players-as reporters, crazy people in costumes promoting TV networks and South American hotties. Oh yeah, a couple thousand legit media members as well.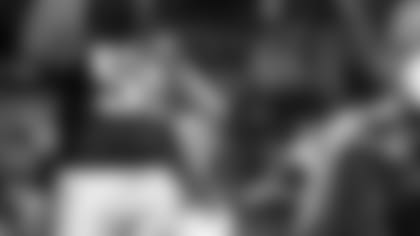 There was a wrinkle this year. For the first time fans were allowed in, with a ticket. I'd say around 7000 people took advantage and each received a goody bag that included a small radio and headphones. The little device allowed fans to tune into the podium of their choice and listen to the proceedings. Very clever and I can see a smartphone app in the future adding to the available features.
Besides Tom Brady, the biggest crowd was easily gathered around Rob Gronkowski's podium. He eventually ambled in, sans walking boot, and held court. In the end nothing of import came out of the day in terms of quotes but do look for a Peter King piece on his interview with Ross Ventrone. Lots of poetry talk. Hey, it's Media Day.
I caught up with Gil Brandt who is known as the Godfather of the NFL Draft. Brandt has literally seen it all when it comes to Super Bowls and the NFL, having served as the Dallas Cowboys chief scout from 1960 to 1989. He's now a senior analyst for NFL.com. I asked him what he remembers about the first "Media Days."
"I was at the first and second Super Bowl and we never had a media day like this." said Brandt. "When we played in Miami against Baltimore, we were at the Pier 66 Hotel and reporters were around the pool and guys would say, 'I want Chuck Howley,' and our PR guy would look at his list and say, 'Oh, Chuck's in room 716. Someone call Chuck and tell him to come down here they want to interview him.' I don't know if we had 15 [reporters] doing interviews.
"Now we have fans here and I heard they were scalping tickets to get in."
Fans at Media Day was a first in 2012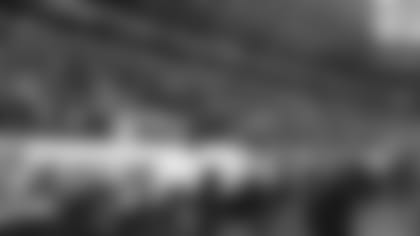 Brandt certainly wasn't complaining. He compared the NFL to any huge corporation that must adapt or die. "Companies like Montgomery Ward went out of business but the NFL keeps innovating. That's why it's so successful."
We did our first Indy episode of Patriots.com Radio today. We're set up behind a registration desk looking out to a hallway that players use to get to some of their meetings. If you've ever heard our show, PFW in Progress, you can imagine that such a location could create some awkward moments. Sure enough, just as I was reading an email from a listener who was predicting Bill Belichick would step down if the Patriots won on Sunday, the team's Director of Football/Head Coach Administration, Berj Najarian, walked by shaking his head. I'm just the messenger! Be sure to listen Wednesday at noon for more uncomfortable moments.
We're back to media access at the team hotel tomorrow. That means Patriots.com will once again be able to do its multicast on the home page. If you didn't see it Sunday evening I think you'll like how you can watch all the press conferences in action and then choose the one you want to listen in on. Sort of like what the fans at Media Day could do but in the comfort of your home (or office as the case may be). Get your coffee ready though, because it all starts at 8:00AM ET. See you then!