UPDATE 9 PM MNT: Well, that was certainly a helluva way to kick off Super Bowl week. Without a doubt, Robert Kraft stole the show at the Patriots opening pressers here in Arizona. He was defiant, crystal clear and if I was Tom Brady or Bill Belichick, I would have had a lump in my throat. Drop the mic, Bossman! I agree 100 percent that when the dust has cleared and the facts are uncovered, someone will owe the Patriots a big, fat apology.
If you didn't catch it live, do yourself a favor and check out Patriots.com later when the video gets posted of Kraft as well as Belichick, Brady and the captains.
Next up is planning for tomorrow. With everyone now in town there are a lot of moving pieces and even more questions. There's a lot to cover starting with Media Day. We'll cover it from a football perspective, but if you haven't noticed, Patriots.com has added lifestyle section. Our editor, Briana Palma, will also be on hand at both the Patriots and Seahawks sessions covering the events from the nutty side.
OK, time to answer staff question with the most import being, is there any food?


The Kirsch Kronicles started in 1997 while the Patriots were getting ready to face the Green Bay Packers in Super Bowl XXXI. Was it truly the Internet's first blog? Who knows. I'm sure some college students were doing something similar before that, detailing to an audience you could count on one hand their boring college life. And let's face it, if they spent their time in college creating an online journal, it's a safe bet they weren't living in Animal House. But was Kirsch Kronicles the first blog that mattered? Absolutely!
Welcome to edition VII, marking the Patriots seventh Super Bowl appearance since I've been with the team. I'll update you with what's going on from my perspective, somewhat different, always warped and bleeding Patriots red, white and blue.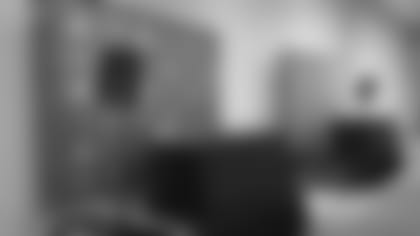 A bunch of us arrived in Arizona on Sunday. We had to be ready for the team when they arrive on Monday because the minute they get off the bus at the hotel, they go right into press conferences. I dare someone to ask Bill Belichick or Tom Brady about footballs.
The team hotel is absolutely beautiful, and spread out. I think my room is in a different time zone than the lobby. That's fine though because when the craziness starts I won't have someone knocking on my door yelling "Hey Brady, you in there?!" And it does get crazy. The team hotel goes from a quiet place of business early in the week to bedlam by Thursday. That's when all the friends, families and sponsors arrive. Picture Hollywood's depiction of a busy Middle East bazaar minus Indiana Jones being chased by Nazis.
That's it for now. We're gearing up for the team's arrival. I'll check back in after that.