Skipjack's at Patriot Place was bustling with energy on Monday night. Servers with trays of drinks and salads moved swiftly from table to table to the kitchen and back again.
"Hello, welcome to Skipjack's. My name is Matthew, and I'll be taking care of you this evening," one said, as if he's said it a hundred times before.
But in fact, he hadn't because that Matthew was Matthew Slater.
And the waiters who diligently took orders all night? They were James White, Devin McCourty, Dion Lewis, David Harris, Duron Harmon, Eric Rowe, Brandon King and Rob Ninkovich.
While the guys took their jobs seriously, they are not moonlighting as waiters. They donned their aprons in the name of charity and supporting a teammate, as Kyle Van Noy and his wife Marissa hosted their first Van Noy Valor Foundation fundraiser: a celebrity waiter night.
The Van Noy Valor Foundation started when Kyle was still playing in Detroit. The mission is to encourage "personal valor in the lives of adopted children, those in foster care and disadvantaged youth by armoring them with success through resources, mentors and opportunities," according to the foundation's website.
For both Kyle and Marissa, the purpose of the Van Noy Valor Foundation is deeply personal. Kyle is adopted, and Marissa's father and brother were adopted as well. In turn, they work with kids and families to make sure they have what they need, particularly around the holidays.
In years past, they have hosted Christmas tree giveaways, and that is something they will continue in New England. They are planning to giveaway 200 trees at event later this year, and Kyle said it's a night he looks forward to.
"It's priceless. It's such a cool experience since we've done it. It really hits home for you to see how grateful they are for having a real Christmas tree at home," Kyle said. "It's an awesome experience and I'm happy to be able to help."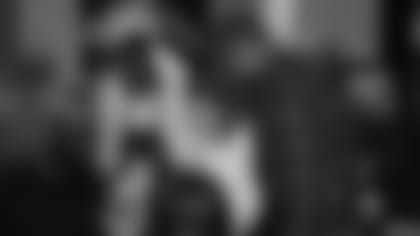 The money raised at Kyle's celebrity waiter night will help pay for those trees, gifts and meals for families around the holidays, and he said after having hosted this event in Utah, his home state, and Detroit, he is looking forward to bringing it to New England.
And his teammates were all too eager to step up and help.
The Patriots were enthusiastic in their order taking, and despite it being a five-course meal, there were zero plate fumbles, only plate pass completions.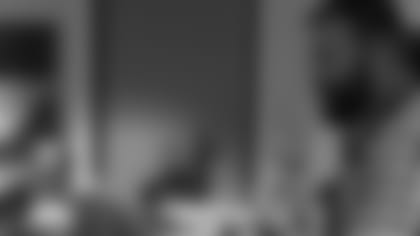 Before the night was over, there was even a special surprise guest. Robert Kraft swung by the event at Patriot Place and said how nice it was to see players making a positive impact, even when they are new to the community.
"The key to life is to hang with good people, and we are blessed to have so many," Mr. Kraft said. "When new ones come in like this, we're pretty proud."