Over 15,000 fans gathered around the fields behind Foxborough's Gillette Stadium Thursday morning as the New England Patriots took the turf for the first day of 2017 Training Camp practice. 
Much excitement and anticipation filled the air as the dawn of a new football season broke, but perhaps some of the most palpable emotions on the practice field came after the training session had ended, when Patriots linebacker Kyle Van Noy approached a group of kids and teens from Adoption Rhode Island. 
The New England Patriots Charitable Foundation was hosting the group at camp for the day – a Providence-based organization dedicated to supporting and facilitating family placement for children waiting for adoption. When Van Noy found out they would be in attendance Thursday, he was overwhelmed with a strong personal connection he just couldn't resist acting on.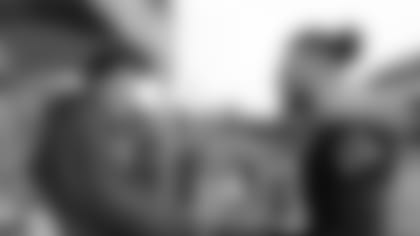 "It hits home for me since I'm adopted myself," the four-year NFL veteran said after meeting with and addressing the group. 
"It holds a big spot in my heart and it's just so good to see kids that come through struggles like that, to get an opportunity, to [know] their paths don't define them and to have a strong future, it's great to see."
Youth ranging in age from four to 18 years old, all with different stories to tell and of various backgrounds, each lit up with joy as Van Noy made his way over the tent where they had watched the team practice. 
The excitement of meeting a professional athlete was thrilling in itself, but when Van Noy shared his own story with the group, the idea that a Super Bowl champion had started out on a path just like their own resonated even deeper. 
"They got so excited, but then the obvious thing is when he came over and he talked about foster care and how he was adopted and how much adoption was a part of his whole family, all of the kids' ears perked up," describe Darlene Allen, CEO and Executive Director of Adoption Rhode Island. 
"It just made them feel really good to know that they're not alone and to know that you can make it in life."
In just a short amount of time amidst a busy practice and training schedule, Van Noy made an obvious impression on the young children; signing autographs, shaking hands, and even posing for a group photo on the playing field. But it wasn't just the kids of Adoption Rhode Island who walked away feeling inspired. 
"I'm just so grateful for those times because it kept me on [the path to] where I'm at," Van Noy said in reflection. "It doesn't matter what situation you're in, you can always be a good person and always make the right choices…and the kids are where it's at. To help out with them and give them just a smile on their face and give them encouragement that they can do anything, [tell] them that they should stick to their dreams and not ever give up – if they take that and run with it, it's just a big plus."