When it came to the details of Sunday's Pepsi Zero Halftime Show, Lady Gaga wasn't giving too much away. 
Well, except that she won't be wearing her infamous meat dress.
Lady Gaga, coming off a "dive bar tour" for her latest album, "Joanne," spoke at a press conference in Houston on Thursday, and though she kept the specifics of her performance to herself, her excitement was clear. After having sung the national anthem at Super Bowl 50, she is the first performer to sing at back-to-back Super Bowls.
And a lot of hard work has gone into making that happen. 
"The preparation for this show is the show business version of the athletes. We have our own set of criteria that we go through ... What I would say is that what you're watching at the half time show, it's not easy," she said. "I say that because I want young people to know at home when they're watching, if you have a dream to be something big, you should go for it. But you've got to give it everything you've got. You've got to wake up and you've got to eat it, breathe it, see it every second of the day, and if you do that, you might be lucky enough one day to wake up and be playing the halftime show." 
Lady Gaga wasn't short on inspiration when talking about the performance. While it's going to a spectacular display of entertainment, it will also be a chance to share the spotlight with her fans, she said.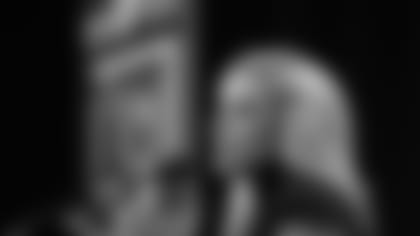 "One of the things I'm most excited about for this halftime show, as much as it's a great moment for me in my life, I really feel like it wasn't given to me. It was given to [my fans]," Lady Gaga said. "Essentially, that kid that couldn't get a seat at the cool kids table and that kid who was kicked out of the house because his mom and dad didn't accept him for who he was, that kid's going to have the stage for 13 minutes, and I'm excited to give it to them."
Of course, this stage comes smack dab in the middle of football's biggest night, which reaches millions. This is something Lady Gaga kept in mind when she and her team were planning the performance. With the fast pace of football, she wanted to make sure that the halftime show didn't "take a dip" and the adrenaline was still pumping between halves. 
Lady Gaga wasn't just mum about her performance, either. When it came down to who she was rooting for in the Super Bowl, she said she couldn't reveal it. Though Lady Gaga grew up in New York and her mother's side of the family is made up of diehard Steelers fans, so saying who she was supporting could start a riff, she said playfully.
"I actually am going to keep that one to myself for a variety of reasons, not just for you guys, but I have a big family coming," she said. "It's going to be an argument I think if I give that away too soon, but I'm going to write it down and put it in my shoe, but I'll let you know. After the halftime show I'll let you know, how about that?"
You can check out the whole press conference in the video below.