Thanksgiving is still a couple of days away, but it didn't stop Patriots players from getting in the spirit on Monday night.
Lawrence Guy and his wife Andrea organized a Thanksgiving dinner for families at the Orchard Garden Boys and Girls Club of Boston, and more than a dozen of Lawrence's teammates came out to serve dinner and meet the families.
Devin McCourty, Jason McCourty, David Andrews, Josh Gordon, Deatrch Wise, Phillip Dorsett, Kyle Van Noy, Danny Shelton, Ted Karras, Derek Rivers, Ramon Humber and many of their significant others all spent the evening helping out.
"I feel blessed to have them come out here and share this event with me, share the experience and to bring cheer to everyone around us and say it's not just me that cares," Lawrence said. "Everybody in the circle cares, everybody in our organization. It's good to come out and see that first hand."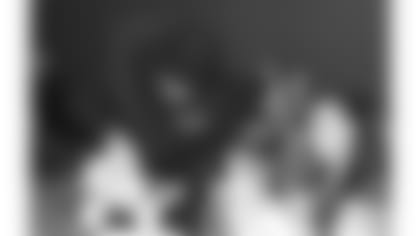 This is something of a tradition for Lawrence and Andrea. They have hosted similar dinners in the past, and this is their first time hosting in Boston. In addition to dinner, families who attended went home with a bag filled with supplies for a Thanksgiving dinner of their own and had a chance to win raffle items, like a new mattress, gift cards and crock-pots.
Aracelis Acosta and her daughter Jailene said the Patriots were welcome guests at the Orchard Gardens Boys and Girls Club.
"It's great. It's really nice to see these guys here in the community," Aracelis said. "Boston is very diverse, so to have them come here to our little space, it's really, really exciting to have them here."
For Jailene, 10, the Boys and Girls Club teaches valuable lessons, and the idea was brought home by the Patriots presence.
"Everyone can be different, but it matters if you treat them the same," she said.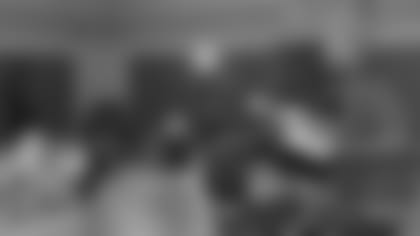 The Patriots who came out didn't hesitate to jump right in, taking selfies with kids and chatting as they served dinner. Phillip said the spirit of giving defines the Patriots locker room.
"I mean we got a great group. Everybody in that locker room, they have a great heart. They want to give," Phillip said. "It's all about giving at the end of the day. Like I said, a lot of the guys came from backgrounds like this, so for them to be where they are in life right now, I mean it's all about just giving back."
Josh Kraft serves as CEO for Boys and Girls Clubs of Boston and said seeing Lawrence and Andrea take initiative to help the community is inspiring.
"It's really pretty powerful that they're all coming out to do it and it just speaks volumes about the character and the commitment of the people in the locker room," he said. "We always say we want to win on the field and off the field. So this is winning off the field."