Lawrence Guy walked by nearly 30 poster boards Friday morning at Bridgewater State University, looking intently at the photos and information on each one. The students eagerly waited to tell them about their year at the university, and he encouraged them to share their experiences.
Lawrence addressed the group of students before checking out their individual presentations, and for him, the program's initiative of encouraging students is personal. When he was 21, Lawrence was diagnosed with four learning disabilities, and by seeking out resources, leaning on those in his inner circle, hard work and faith in himself, he continues to succeed.
His sophomore year at Arizona State University, Lawrence said he set a goal to reach a 3.5 GPA and be a "scholar baller." Lawrence eventually achieved his dream of earning a 3.5 GPA.
"If you have a goal in mind, if you have people that are willing to help you with your goals, take full advantage of that and embrace it. Embrace the journey because every struggle that you have will you make a better person in the long run," Lawrence said. "Every struggle that I've had in my life made me a better person, made me a stronger person."
ICEI is a "life-changing" program for the students in it, according to Director of ICEI Mary Price, and for the students, hearing from someone like Lawrence can make all the difference.
"The students that spoke today talked about how it's changed their lives and how the programs like this allow them to advocate for themselves, self-determination. It allows them to actually experience college," she said.
As Lawrence walked around the room, taking in their art, learning about their internships and their favorite classes, he saw firsthand every student's goal and the pathway to achieve it.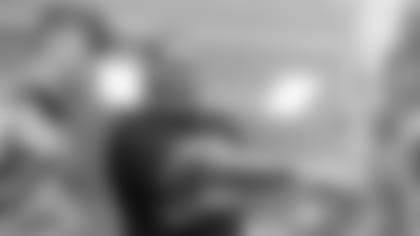 "It was important for me to have the opportunity to share my story and see the joy from everybody in the program, to see how much they've grown from the beginning to the end and how they embrace their experiences," Lawrence said. "It's amazing to see where they came from, how they enjoyed their subjects and what they want to do in the future. I'm happy I got to experience this and speak to them. It's always a pleasure to have someone hear your story, sit back and understand that they're not the only people going through something."
Stephane Garfano, a student in ICEI, said being on campus, working with professors and taking classes has been an incredible experience, and in following Lawrence's advice, shared her plans for the future.
"I'm thinking about being a teacher's assistant after next year because next year I'm taking a child education class," she said.
And Lawrence echoed that it takes hard work, but your dreams can become reality.
"You can do anything you put your mind to. If you set a goal and you work hard at it, it doesn't matter how long it takes, you will hit your goal sooner or later," he said.