When Patriots Chairman and CEO Robert Kraft presented Rob Gronkowski with the 2016 Ron Burton Community Service Award Tuesday night, he said few people have as much fun giving back as Gronk.
"His smile and laugh are infectious as he brings joy to everyone he meets. He is truly the life of any party, really," Robert said. "In the seven years I've known him, I've never known him to have a bad day and when I grow up I want to be [Gronk] in my next life."
While Gronk is known for his extroverted and fun-loving personality, his work and passion about serving his New England community and beyond are unparalleled. Pictures of the tight end running around a school gymnasium are almost as frequent as ones of his Gronk Spike.
Whether he is shaving his head at the annual One Mission Buzz-Off or guiding kids through drills at a Play 60 event, Gronk consistently gives his time and energy to help – particularly with children. Even when he battled injuries, he still managed to get out. Gronk once delivered presents to kids at a local hospital dressed as an elf while in a wheelchair, still managing to spread holiday cheer.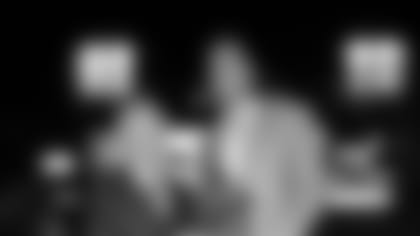 When Gronk accepted the award, he said he quickly realized how he could make the biggest impact in the community.
"When I started blowing up a little bit my second year, everyone was asking me left and right, 'Hey Rob, can you do this?' 'Hey Rob, can you do that?' It was getting tough to please everybody," Gronk said. "If you try to please everybody, you're not pleasing anyone, so I started to pick and choose my options and give back to the community, to who I really wanted to give back to, and it was kids. I love working with kids. I love dealing with kids at any time."
And kids love hanging out with Gronk, as well. Throughout his time with the Patriots, Gronk has participated in Special Olympics, "Football for YOU" Clinics, playground builds and hospital visits and is a regular on the team's Tuesdays in the community outings. Through both the New England Patriots Charitable Foundation and his Gronk Nation Youth Foundation, Gronk's efforts have touched countless lives and that number is sure to only grow. 
Check out highlights from Gronk's community service in the gallery below. 
FUN GALLERY
New England's lovable tight end is the most recent recipient of the Ron Burton Community Service Award. Take a look back at some of his most memorable moments in the community.