Back in February, Patriots.com's Bob Socci wrote a feature on Navy LS Joe Cardona from the NFL Combine in Indianapolis. Cardona was drafted by the Patriots in the fifth round of the 2015 NFL Draft, becoming the fourth long snapper to be drafted in NFL history.
Read the full feature below:
Not A Snap Decision
Among those meeting the media on Wednesday was a true one-of-a-kind player.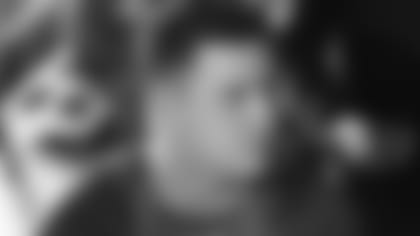 Joe Cardona is the only long snapper attending this year's Combine. As a soon-to-be-graduate of the United States Naval Academy, he's also the lone service academy standout here. Which makes him unique for another reason.
Unlike every other prospect in Indianapolis, Cardona doesn't know if he'll even be allowed to play this season if selected in the draft.
Cardona is expected to be commissioned as an officer in May, after majoring in economics and making Marine Corps Ground his service selection. Naval Academy graduates typically are obligated to serve at least five years active duty upon graduation. Normally, someone on Cardona's track into the Corps would leave Annapolis for The Basic School in Quantico, Va.
But if Cardona lands on a roster, he might be allowed to forgo TBS for the NFL.
"Ultimately, it's whatever the Navy wants to do with me. I'm ready and willing to do whatever they ask," he said on Wednesday. "All that comes down to the needs of the Navy, what they foresee me doing and how they want me to serve."
Of course, teams considering Cardona have to weigh the unknown against what they do know about him. At Navy, he was extremely accurate, developing a hitch-free delivery that was clocked in excess of 40 miles per hour last summer at a kicking academy in Wisconsin.
Even if the uncertainty of his situation keeps Cardona off draft boards, he should remain on the NFL's radar. Especially -- as both history and current circumstances suggest -- in New England.
In recent years the Patriots signed several Midshipmen as undrafted free agents, including receiver Tyree Barnes, fullback Eric Kettani and running back Shun White. Each was brought into Foxborough despite pending military commitments.
More than an openness, Belichick has a well-documented fondness for Navy players, stemming from his strong personal roots to the Academy and Annapolis.
As most Patriot fans know, Belichick's late father Steve was a Navy assistant for 30-plus years. His love of the Midshipmen was so rich that Bill donated the vast collection of football books he and Steve collected to the Academy in 2006. Cardona knows it well. On Wednesday he recalled frequently visiting the Belichick Library in the football offices at the Academy's Ricketts Hall.
Sentimentality aside, Belichick and the Pats are likely to give Cardona a long, hard look based simply on need. Their long snapper of the last three years Danny Aiken, who survived several competitions for his job before and during 2014, is currently a free agent.
Aiken is also another of the conduits connecting the Mids to the Patriots. His younger brother, Matt Aiken, was a three-year teammate of Cardona and a Navy co-captain in 2013.
"I've gotten to meet Danny a couple of times. He's come down to some of Matt's games," Cardona said. "It's been awesome getting to hang out with him and bounce ideas [off him]. Not many people can really talk about long snapping, I guess. It's good to actually talk to somebody about different things we experience."
Cardona's also relied greatly on Kettani, who spent last season on Jacksonville's practice squad.
"[Kettani's] helped me through a lot of this, just getting ready for the military-NFL combination, I guess," Cardona says. "His biggest advice to me that I've really taken to heart is that you have to be successful in everything you do to even get opportunities like this.
"You have to be successful in football to get an opportunity to play in the NFL and you have to be successful as a Naval officer for them to consider any sort of exemption or early release. You have to be a stand-up individual who's shown that you can represent the Navy at this level, and on this stage."
Despite the uniqueness of his situation, Cardona doesn't see himself any differently from those with whom he shares this stage.
"It's an awesome experience getting to go to the Senior Bowl, getting to go to the Combine and getting to compete and getting to know these guys who are here," he says. "I don't know whether I'll be on the field next year. But neither does anybody else here, really. Any of these guys can get drafted and not make a team. I'm in the same situation as anyone else, that's the way I look at it. I'm either on the field or I'm not."
And if the latter for him?
"I don't think there's a downside of it, sir," said Cardona, politely punctuating his reply like the true Midshipman he is, when asked about possibly deferring his football dream to fulfill a military commitment. "It's a guaranteed job and a career that a lot of people really aspire to and it's a very honorable thing to be a naval officer."