He may be from Florida, but 10-year-old Ramie Darling is no bandwagon New England Patriots fan.
As he explains the reasoning for his allegiance to quarterback Mac Jones on a recent Facetime call, it's hard to question.
"Florida gave me cancer," Ramie said, "but Boston cured it."
Ramie was diagnosed with Hepatoblastoma, a rare liver cancer that impacts children, in December 2022. His family set out to find the best care possible from Dr. Allison O'Neil's team at the Jimmy Fund Clinic, but it meant the family would have to split up between Vero Beach and Boston during his treatment.
"It's been really tough, but I feel like we really made the best of it," said Ramie's mom, Katie, who stayed back home to help her two daughters maintain some sense of normalcy. Her husband, Ramie Sr., spent most of those eight months in Boston with Ramie as his son underwent chemotherapy, liver surgery, and a liver transplant.
"The girls have been super strong at home continuing on with their sports and school. We're making it work back and forth. We've all been so supportive of each other to get through this."
Up north, the Darling boys spent a lot of time watching television together. As you could imagine, that meant a lot of time getting acquainted with Boston sports.
"We've just done a lot of couch-sitting here," Ramie said. "A city like Boston is a big sports city, so might as well like sports."
With that, the Darlings also found unexpected additions to their support system in hospital staff, the Patriots, and a fellow Floridan.
"I know it's gotta be hard, but I think the biggest thing for me is I want to be able to form a relationship with you be friends with you," Mac told Ramie on the call after inviting him and his father to New England's in-stadium practice.
"Whatever you want to do, it's your day — you'll be able to have VIP access."
That Friday night, the father-son duo sat on the Gillette Stadium turf with uninterrupted views of the team's warmup and scrimmage.
He met Devin McCourty, Jahlani Tavai, Chris Board, Calvin Monson, and David Andrews, who signed one of his gloves for the boy. Along with a football signed by players, Ramie also made out with a No. 10 jersey personally autographed by Mac.
Ramie planned to hang it in his bedroom, but it would have to wait at least a little while.
Before going home, he had to finish chemotherapy. He'd also been invited by Mac to attend the Patriots' first preseason game against the Houston Texans on Thursday.
This time, Arbella Insurance was flying his mom and two sisters to attend as well, and he'd get to show them around the field during pregame warmups.
"He liked showing his sisters all around," said Ramie Sr. after they arrived at Gillette Stadium on Thursday. "He walked in and was like, "look at this, look at that."
Ramie Sr. also alluded to the good news they'd just received two days prior.
"Ramie's doctor just told us he's done with treatment and we're done fighting cancer."
The father and son celebrated by going fishing -- fitting, as a small connection between their home and New England, also depicted on a hand-drawn card Ramie gave to Mac at practice.
Before kickoff, celebrations continued, with Ramie serving as honorary captain alongside Matthew Slater.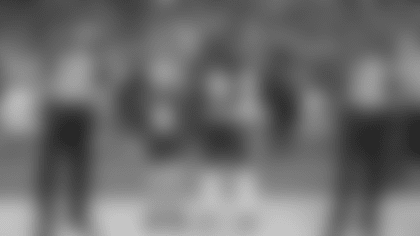 "It's been really exciting," said Katie.
"I was just telling a friend, I feel like it's a victory for all of us. Ramie, obviously, but for all of us as a family. We've all won, all of our friends and family, we all did it together. He did the hard part. Now we all get to be all together in the same place for more than a couple of days. We're looking forward to that."
For Ramie's father, it brings him pure joy to see his son have these interactions with Mac and the Patriots after all he's been through. Especially considering the positive mentality Ramie has kept through it all.
"It's so special," said Ramie Sr. "It's so good seeing a smile on his face considering everything that we've been through and not knowing where we'd be right now."
As the family heads back to Florida, they're grateful for the friends they've made in New England.
"It's such a good distraction for him, the outpouring of support from everyone," Katie said.
"Mac Jones, our family and friends, and then just all of New England: the Jimmy Fund and Dana Farber, it's so amazing what these people are doing here for these kids."