When the Hall at Patriot Place Presented by Raytheon was set to kick off its 2017 summer reading program last Friday afternoon, those involved in planning the annual campaign decided to bring in a special guest who knew first-hand just how far reading can take you: Malcolm Mitchell.  
The special guest host of Friday's Patriots Reading Rally event inside the Hall's Raytheon Theater was also dubbed the official ambassador of "Read Between the Lines," an initiative that intends to promote youth literacy and challenges children ages 5-18 to read 1,000 minutes from July 1 to August 31.
Despite Malcolm's football success that earned him numerous accolades and awards as a young athlete, reading was always a struggle throughout elementary school, high school and his early years of college.
Through perseverance and a bit of inspiration from those he looked up to most, Malcolm took some of the lessons he'd learned on the football field and carried them over to the classroom. He set out to overcome the challenges that reading had previously presented him with, and determined that just like in football, hard work and lots of practice could help him achieve whatever he wanted to do.
Since then, Malcolm not only learned to love to read, but in 2015 he authored his very own children's book. He also started the "Read with Malcolm" initiative that same year with a mission of transforming the lives of young students through literacy.
"When I say it, I mean it. I guarantee you I wouldn't be the person I am without opening up a book and deciding to read," Malcolm said.
At Friday's rally, Malcolm read his book, "The Magician's Hat" to local children and spoke to them about the importance of reading. Magician John Logan also complemented the reading with a live magic show, and following the event, Malcolm participated in a Q&A session with kids and signed copies of his book for fans in the Patriots ProShop.
Third-grader Aarna Prasad of Easton was in attendance, and although already an avid reader with a love for learning new things, she said that hearing from Malcolm inspired her to want to pick up even more books this summer.
"It was an exciting opportunity," Aarna said Friday. "It was also nice how he knew some answers to my questions. I read every opportunity I can, but this will make me read even more."
Malcolm, too, enjoyed the opportunity to interact with young readers while sharing his story and encouraging kids to read and reach their full potential.
"I always say my favorite part is the Q&A because I do have a message to send when I talk, but it's fun just to get the interaction back and forth," Malcolm said. "Sometimes I think I'm a kid [based on] how much I relate to some of the stuff they're doing. I like the same books they like; I've read the same books they've read. They've read more than me probably, but I enjoy it."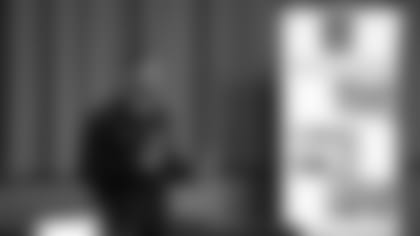 Katie Cross, education coordinator for the Hall, said that given Malcolm's message and personality, he was the perfect person to help encourage kids to take the summer reading challenge.
"Not only is he an awesome player that kids look up to, but he is passionate about promoting literacy through his foundation, and he is also very open about the struggle he had with reading," Katie said.  "His discussion of how he overcame those challenges and fell in love with reading in the process is so inspirational." 
As kids and parents filed out of the theater and collected information on how to register for the "Read Between the Lines" program, Malcolm left them with one final message – one that helped him become both a Super Bowl Champion and a lover of reading, and one that also serves as one of the closing lines of his own book, "The Magician's Hat."
"Follow your dreams, and they will take you wherever you want to go," Malcolm smiled.
For more information on how to sign up for the Hall at Patriot Place Read Between the Lines summer reading challenge, visit http://www.patriots.com/RBTL.