Tyler Hutchinson was the coolest kid at Duxbury Middle School last week when he arrived Tuesday morning in a limo, accompanied by New England Patriots running back Laurence Maroney.
Tyler won the "NFL Take a Player to School" sweepstakes and got to ride to school with Maroney, who then attended a pep rally at the school and led Hutchinson's class in fitness activities.
The program was in partnership with the NFL PLAY 60 initiative, and was presented by the JCPenney Afterschool Fund and the NFL, which donated $2,000 to each winning school's physical fitness programs. Maroney is among 34 players across the league visiting schools this month to encourage kids to stay healthy and active.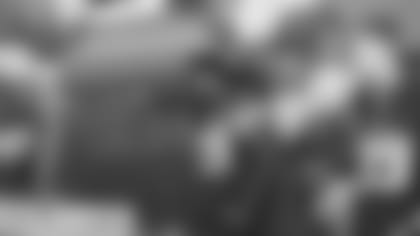 ]()Tyler, 12, said he didn't even know he had entered the contest until he had already won it. His mother, a diehard Purdue fan, heard a radio advertisement for the sweepstakes featuring Purdue grad Drew Brees, and immediately entered all three of her children.
"I signed the kids up online and then I forgot about it," said Lee Hutchinson. "I thought, 'What are the chances? Nobody wins these things.'"
But a few months later, Lee was waiting for Tyler in the driveway when he got home from school with the good news.
"Initially, he told a couple friends and nobody really believed him, and then all of a sudden it's really happening," said Tyler's father, Scott Hutchinson. "The last few days of school everybody's been coming up to him and talking to him and he's been all excited."
As he waited for Maroney's limo to pick him up at his Duxbury home, Tyler's excitement turned to nervousness.
"He's been calm up until this morning," said Scott on the big day. "Laurence is doing a great job helping him relax, but he was pacing back and forth for an hour this morning before Laurence got there. He started to realize it was really going to happen."
Maroney stopped at the Hutchinsons' home to sign autographs and meet the family, and then he and Tyler were off in the limo on their way to Duxbury Middle School where throngs of students were waiting by the front door to greet Tyler and Maroney.
The pair entered the building to cheers and high fives, and after quick stop in the principal's office, they headed for the gymnasium, where the whole school was gathered waiting to see the Patriots star.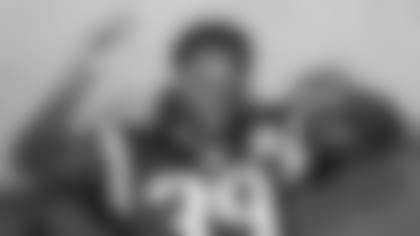 ]()After the assembly, Maroney led a small group of Hutchinson's classmates in a special gym class, where they rotated stations of jumping rope, hula hooping, sit-ups, passing drills, and running backs drills, and then ended the class with a special game he teaches at his football camps.
"It's just always good to see the smiles on the kids' faces to see how much fun they're having," said Maroney in between hula hooping bouts. "Actually, I'm having just as much fun as they're having. I really thought I was going to be working them out, but they're working me out. They've got me sweating bullets."
"The older they get, the less you see them playing," said Tyler's mother. "So at this age, I think it's great to kind of remind them that school is important, but it's all together. If you're not physically healthy your school work is going to suffer, too, because you get sick. Tyler plays a lot of sports and he's active, but he also loves his video games and you kind of have to say, 'Hey, time to shut it off and go outside and get some fresh air.'"
Donning PLAY 60 shirts and sweatbands, the students gathered for a final huddle with Maroney to talk about the importance of being healthy and staying active, and then they headed reluctantly back to their classed as Tyler escorted his special guest out of the building.
"It was such an exciting day for us and these kids are very much deserving," said Principal Blake Dalton, who praised the PLAY 60 program, which encourages kids to be get at least 60 minutes of exercise a day. "It's very important. All the research shows that kids that are healthy and active do so much better in school and they can concentrate better. Kids staying active and healthy is definitely a huge part of their academic success. And so to have Laurence come into our building and be here, it's such a highlight of our year. Thankfully, we have tomorrow [Veterans Day] off because it's going to take a day to get the kids to settle back down."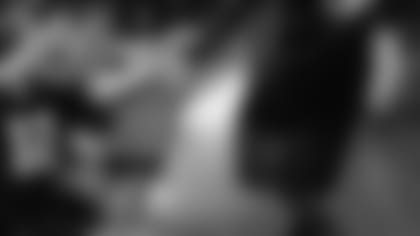 ]()That certainly seemed to be true for Tyler, who could barely muster the words to describe the day. "It's amazing. It's so cool," he said, beaming. "I get to work out with a famous athlete and it's really fun.
He's an amazing person and a great athlete. He's just fun to be around. It's so cool."
"Tyler's definitely a great guy. He deserves to have something like this," said Maroney. "I wish I was Tyler right now because when he gets back to class he doesn't know how good he's going to have it.
"It's always good to know you can impact a person's life, whether it's a big impact or a small impact. Just being able to be a part of it and make his day, it made my day."