There were some familiar red sleeves finding their way onto the field for competitive team portions of the Patriots third practice of training camp as Matthew Judon was back in the mix and got his most extensive work of the summer. While he wasn't back in his starting spot with the first-team defense, Judon got in with the second team and his rising presence was a welcome one.
Judon had spent the first two days departing for the lower conditioning fields following warmups, sparking speculation that Judon might be looking for a new contract. But the eighth-year edge shot down that conjecture, pointing more towards some conditioning work that he and the coaching and training staff agreed would be a good way to get things rolling.
"Right now we're just working with the coaching staff and the trainers to where, when I do practice, I'm at a good place, I can move fast the whole practice," said Judon in his first availability of the season. "It's more working on my conditioning, working on running and making sure I am where I need to be because if I come out here in shells and stuff and moving slowly it doesn't look good, but when we put on pads I'll be here."
There's little debate that Judon is one of the most important players on the defense. With 28 sacks in two seasons in New England, along with two Pro Bowls, Judon plays one of the key roles that is absolutely essential in the NFL, getting after the quarterback. But it's more than just that, as Judon's electric personality and wide smile have made him one of the team's most enjoyable off-the-field players to follow, quickly becoming one of their signature stars.
After signing a four-year, $56 million deal in 2021, Judon is one free agent signing that has lived up to, and perhaps surpassed his deal. Judon wasn't willing to go into details about any potential contract negotiations but doubled down after telling WBZ's Dan Roche last week that he'd like to finish his career with the Patriots.
"I'm happy to be here man," said Judon. "I think most important is my comfort with the staff, with my coaches and where I'm at. I know where to go to get massages, my house, I can drive here when I'm sleepy. Everything has made it to where I feel like I wanna stay here for the rest of my career but if that's not in the cards that's not in the cards. I felt like that when I was a rookie but that wasn't in the cards for me. I don't get to choose."
It's generally hard to miss Judon. Whether he's setting a strong edge in the run game and getting after quarterbacks, sprinting onto the training camp practice fields to the passionate screams of Patriots fans, or just donning his signature red-sleeved look, Judon makes his presence felt.
Even on the hottest day thus far of the summer, there was no stopping Judon from putting on that red sweatshirt, something he credited former Raven and Patriots antagonist Terrell Suggs with.
"It's from one of the greatest pass rushers in my eyes in Terrell Suggs and I give a lot of my game to him because I stole from him," explained Judon. "This is one thing I stole from him, it was one year he came in, he was a little overweight and he practiced his butt off and wore a long sleeve every day, and like by the end of camp he had a six-pack and he was ready and he went out there and got like 12.5 sacks and his 13th year. So I was like, if he can do just that little thing, just forget about the elements, forget about how hot it is, forget the circumstances that are going around and just focus on football, that's what I want to steal from him."
With his training camp trajectory arrow now pointing up, Judon will be able to better fuel his passion for the game, even as the dog days of summer arrive.
"It's football, this is what I love to do," said Judon. "I get a release out here... emotional, physical release out here. And then I'm just out here with my friends. I got so many friends out here, we just have fun, from offense to defense we hang out but we also compete and I'm a competitor at heart. Like tic-tac-toe, I hate playing rock-paper-scissors cause I lose, I don't even play that no more. Video games. So I'm competitive through and through and I'm gonna be out here and competing and showing. If y'all think I'm the best or whoever, that's up to y'all but I'm gonna put my best forward always."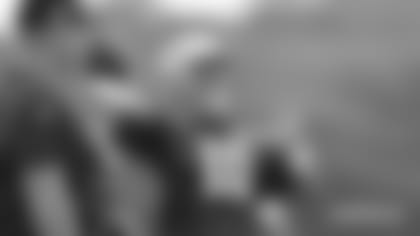 Deuce's Dime Package: Training Camp Day 3
It was tough sledding for the offense on Day 3 during "competitive" portions, which featured one 7-on-7 period and two 11-on-11 periods, all starting around the 20-yard line. Each unit got five-to-six reps each. Hunter Henry's touchdown catch on the first play of 7-on-7's was a good start but one the offense couldn't maintain. A checkdown to Rhamondre Stevenson and a comeback hitch to DeVante Parker accounted for the only completions in 11s, with multiple contested throws falling incomplete and at least three reps that likely would've been sacks.
Give some credit to the defense, with rookie Christian Gonzalez (two passes defensed) and Jonathan Jones flashing some excellent coverage. Gonzalez has been as advertised, stepping right in on the outside (mostly on the defensive right side), despite some hiccups in the first two practices that were to be expected. Marcus Jones spent time in the slot with the top unit after getting some outside looks on Thursday.
Demario Douglas continues to spend time with the 1s during ramp-up portions along with Pierre Strong as the only two players on the lower end of the depth chart to get those kinds of looks. Douglas had his best work with Bailey Zappe, including back-to-back catches in 11-on-11's. Even with a veteran receiver group, Douglas' quickness jumps off the field. If there was an early favorite for the fifth receiver spot, it would be "Pop." "Demario's working at returns and offensively inside and outside, so it's a big jump for him from a competition level in college, but he seems to be transitioning pretty well," said Bill Belichick prior to practice. "He's a smart kid. He picks things up well, learns quickly, so all things that work in his favor, but we'll see how it goes when things get more competitive next week."
The team starting taking some looks at different options along the offensive line on Friday, with Conor McDermott taking over the top reps at right tackle for Riley Reiff, who saw some time at left tackle himself. Right guard is the interesting spot with Michael Onwenu remaining on PUP. Bill Murray again got plenty of work, but Atonio Mafi and Chasen Hines also worked their way in. It seems like the right side of the line has some of the biggest roster questions, at least until Onwenu returns. Calvin Anderson's return will also be an interesting one to watch for, he held down the left tackle spot all spring but so far it looks like Trent Brown is entrenched there until further notice.
Another rookie making a bit of a push is Isaiah Bolden, who paired with Jack Jones and Myles Bryant as the second trio of cornerbacks. Quandre Mosely, Rodney Randle and Shaun Wade made up the third group of corners. Bolden's kickoff return ability gives him some added roster potential. As a junior, he led the nation (both FBS and FCS) in kickoff return average at 36.9 per attempt and tied for FCS lead with two return touchdowns.
Hunter Henry has had the best camp so far of any of the pass catchers, while DeVante Parker has had a number of targets, mostly of the fade/contested-catch variety. I had him down for one catch on three targets. The lack of production from Tyquan Thornton, Kendrick Bourne and Mike Gesicki is notable, though there's still a long way to go. After a couple nice catches on Thurday, Juju Smith-Schuster was quiet on Friday except for one nice crosser in 7-on-7's that was one of the offense's smoothest plays of the day.
With Ty Montgomery missing practice, it put a spotlight on some tenuous running back depth with just four healthy players at the position. It's disappointing that the injury bug has hit Montomgery again, who was off to a good start this summer just like he got off to last year before injuries cost him all but the first game of the season. I'd expect the team to add some depth over the next day or so, unless Montgomery truly is just day-to-day as Bill Belichick told reporters before practice. It doesn't even have to be of the Dalvin Cook or Leonard Fournette variety, they just need some training camp depth.
No interceptions for Mac Jones today, a good sign, but there were still a couple of late throws that might've been touchdowns had Mac gotten the ball out sooner, especially the second-to-last reps in 11s with Henry streaking across the end zone. Marcus Jones flashed some good coverage on the play as well, but it seemed like Mac could've had Henry for another TD. This can be attributed somewhat to the new offense and understanding how to get through his reads so there's no reason to panic just yet. Bill Belichick said this week was an extension of OTAs and for the offense, it's looked that way. I'm not sure we'll get a true sense of where they're at until they face the joint practice defenses of Green Bay and Tennesee, but it'd be nice to see a little more consistent production before then.
Jake Andrews and Atonio Mafi have gotten some opportunity reps but fellow rookie Sidy Sow has remained toiling with the third group as a right tackle. We'll see if he gets a chance to show his stuff in competition with Reiff and McDermott. Andrew Stueber could enter that mix as well, he's been spending his time as the back-up left tackle mostly but played right tackle at Michigan.
Finally, a shout out to Holy Cross head coach Bob Chesney and his special teams/tight end coach Drew Canan who were in attendance at practice, along with a collection of coaches from Bryant University. The Patriots are constantly welcoming local college coaching staffs into Foxborough as a way to help grow the game in New England and the impact continues to be felt. Holy Cross made it to the FCS quarterfinals last season and will renew their rivalry with Boston College on September 9 at Alumni Stadium in Chestnut Hill.
DISCLAIMER: The views and thoughts expressed in this article are those of the writer and don't necessarily reflect those of the organization. Read Full Disclaimer