Matthew Slater is often described by his coaches and teammates as being a tremendous leader both on and off the field.
So it should come as no surprise that Matthew is again being recognized for his leadership and service in the community. On Tuesday, the Hockomock Area YMCA announced at its Invensys Foxboro branch that Matthew will be their 2017 Legends Ball Honoree.
"We've been so lucky over the years to have a great relationship with the Patriots Alumni Association and Pete Brock, Steve Grogan and many of the current Patriots who have supported our efforts," said Hockomock Area YMCA President and CEO Ed Hurley. "We look forward to honoring Matthew for his passion and commitment to inclusion in the community for children and individuals with disabilities during our annual Legends Ball Gala on Nov. 28."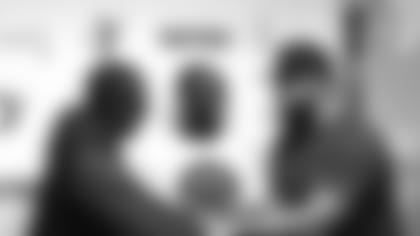 About 30 members of the YMCA's Integration Initiative, a program that provides unique, innovative and impactful opportunities for children, teens and young adults with special needs, welcomed Matthew at the Y for Tuesday's announcement.
"It's been an honor to be a part of this community and see each of you grow up," Matthew said of the Integration Initiative members. "I'm very appreciative of the example you all have set and the way you guys carry yourselves. I'm very honored and blessed to be mentioned amongst the other YMCA Legends."
Past YMCA Legends Award recipients Rob Ninkovich, Devin McCourty and Grogan joined Slater for Tuesday's announcement at the Y.
"A big reason I've been able to accomplish so much here in New England is because of Matthew Slater," said Devin. "Since I got here in 2010, he's been a huge leader in the locker room. He's a guy you can turn and look to as an example of how to do things the right way."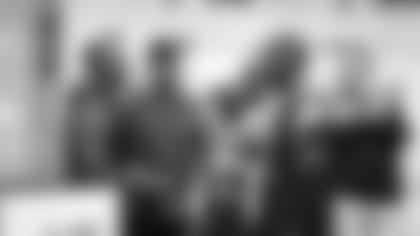 Rob, who received last year's YMCA Legends Award, said he couldn't think of a better guy than Matthew to receive this honor.
"He's a special person," Rob said of Matthew. "I have so much respect for him because of the man that he is and the type of life that he lives. His commitment to the community and the way that he goes about every day is something that I look up to as a person and strive to be."  
The YMCA's 2017 Legends Ball Gala will be held at Lake Pearl in Wrentham, Mass., on Nov. 28. To learn more about the event, visit https://www.hockymca.org/legends-ball.