When Devin and Jason McCourty were drafted in the NFL, their mother, Phyllis Harrell, made one thing clear – what they do on the field matters little compared to what they do off of it. Make the most of your position as a professional athlete and create change.
As Jason recounted this conversation on Nov. 4 in front of a sold-out audience at Patriot Place's Showcase Cinema de Lux, it was yet another example of how they took their mother's words and turned it into action.
On this particular night, it means hosting a premiere for "College Behind Bars," a PBS documentary that follows incarcerated men and women in one of the country's most strenuous education programs, the Bard Prison Initiative [BPI]. The film explores the idea of "the transformative power of education" on the lives of those in the United States prison system, according to the documentary's description.
Award-winning producer Lynn Novick made her directorial debut on the film, working alongside co-director and producer Sarah Botstein. Legendary filmmaker Ken Burns served as the documentary's executive producer, and all three were in attendance Monday night.
They, Devin, Jason and two of BPI's graduates who are featured in the film, Sebastian Yoon and Salih Israil, came together for a panel discussion about "College Behind Bars," criminal justice reform and the power of education.
As Novick put it, the film set out to explore what prison is for, who has access to education and the social and racial impacts of both.
Through the Players Coalition and their own curiosity, Devin and Jason have thrown themselves into fighting for criminal justice reform, as well as access and equality in education on the local level, working with State Sen. Sonia Chang-Díaz to advocate for the Education PROMISE Act. When an opportunity to host a premiere in Foxborough presented itself, the McCourtys knew it was something they wanted to do.
Many people, they said, know someone who has been incarcerated, themselves included. "College Behind Bars" and BPI humanize those men and women and give them an avenue to rehabilitate.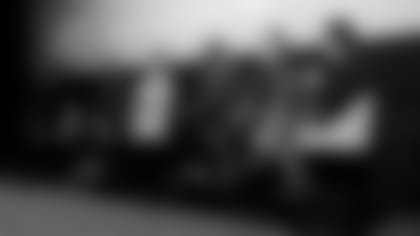 "It kind of goes against the status quo of what we already think the prison system is for," Jason said. "'Hey, you did something bad. You should be punished for it.' Now to understand that there's another way to rehabilitate people in prison and when they get out, give them an opportunity so they don't end up back there."
While according to Pew Charitable Trusts, recidivism rates, or the rate at which released prisoners are rearrested, are falling nationwide, they are still at-risk to reoffend. However, of the 500 or so graduates of BPI who have been released, less than 4 percent have been reincarcerated. The idea is that by preparing and educating men and women in prison, they will grow, change and be prepared to contribute to the world upon their release.
That certainly was the case for Yoon and Israil. During the panel discussion, Yoon said before BPI, he attempted to take his own life. After spending time in the classroom, writing and studying with his peers, Yoon found hope for the first time since being sentenced.
Israil, who currently works as a programmer, said he doesn't like to think about where he would be now without BPI. His education changed how he views the world, himself and his actions. With the advent of "cancel culture," Israil said he hopes people see exactly how drastically people can change.
"Someone does something wrong and that means they never have room for redemption or an opportunity for improvement. What that means is that we have a failing belief in the idea of the transformative power of human beings, a human being's potential to grow and change," he said. "For me, I hope when they walk away from this movie, we can invigorate and reinforce the idea that human beings can change. It's a process. You can start somewhere and be somewhere else later. I think that fundamental belief, if it's not there, then anything we can think of in terms of criminal justice reform is a moot point."
This idea is something that Devin latched on to, as well.
"We just heard from Lynn and Ken, and I thought one of the key things they said was 95 percent of people that are incarcerated will be back in society again," he said. "When you think about that, why wouldn't we make them better people? They're not going to just be back in society for themselves, but now they have the opportunity to make society better. I think by us deciding to invest in them and believe in what they're doing, then they come out and believe in themselves. Then they help society."
Devin and Jason weren't the only Patriots who turned out for the premiere. Patriots President Jonathan Kraft, Duron Harmon, Deatrich Wise Jr., Matthew Slater and Ben Watson all came out to support the cause and watch clips of "College Behind Bars."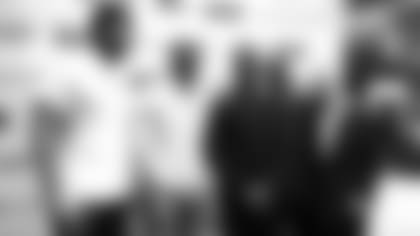 Their support of the project is something Burns deeply appreciates.
"It is a testament to Devin and Jason that they are manifestly curious human beings who aren't just about football, being on the greatest football team of all time," Burns said. "They are also interested in the problems of the world, and they have actively dedicated their lives off the playing field to this. Their curiosity about what we've done means that we suddenly have a megaphone that just expands the reach of the film that much further."
State Sen. Chang-Díaz also attended the event, and she has seen first-hand how the McCourtys throw themselves at causes with the same tenacity they exhibit on the football field.
"I have to commend them because I think some cynics might criticize and say it's just a flash-in-a-pan PR stunt or something like that for a professional athlete to get involved in policy advocacy. They've been so consistent and disciplined and so deep in their dive on this issue and really exploring and educating themselves and then others in turn," she said.
As the panel wrapped up on Monday evening, Devin explained how, exactly, two NFL players came to get involved in a profound way, to use their names, their time, their energy to try and make the world a little better.
In a way, it is the thesis statement of their work off the field for the past few years.
"We want to be a part of change. We want to do what we think is right," Devin said. "We want to be a part of it, and I think that's why we play football because it's a team sport. There's no individual that's bigger than the team. We all play a role in it, and I think when it comes to outside of football, we all have a purpose. We all feel like our purpose is bigger than football and we want to use that platform to be a part of a bigger team. I speak for myself and my teammates that continue to go out in the community. We just want to be a part of the community. We want to be a part of the change."
"College Behind Bars" premieres on PBS, locally on WGBH, on Nov. 24 and 25 at 9 p.m.