It's that time of year again. The Patriots are signing new players in free agency, and that includes five new faces coming to Foxborough this week.
The Patriots signed Bruce Ellington, Terrence Brooks, Mike Pennel, Maurice Harris and Matt LaCosse, and there is a lot to learn about the newest Patriots.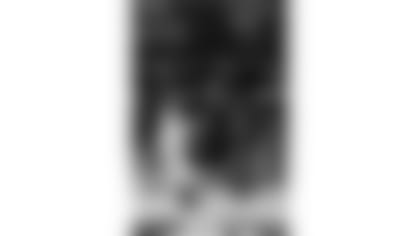 Bruce Ellington is joining the Patriots from the Lions, and the wide receiver is a dynamic athlete.
Former Jet Terrence Brooks is a good Instagram follow for those who appreciate photography. In addition to his own personal account, Terrence has an Instagram account dedicated to his photography. Most of his shots are cool scenes from New York City, so we can't wait to see what he'll capture in Boston.
City shots aren't all he takes photos of either. Terrence's family makes for great subjects. He and his wife Caitie have a son, Carter, and earlier this year, welcomed twins to the family.
Terrence isn't the only former Jet coming to Foxborough. Defensive lineman Mike Pennel is now a Patriot, and with him comes strength on the field and in spirit.
When he was just 2-years-old, Mike was diagnosed with Wilms' tumor, a rare kidney cancer, and according to an article on ESPN, he underwent surgery to remove the tumors on both of his kidneys. Ultimately, a third of one of his kidneys also had to be removed. In the summer of 2017, Mike went back to the hospital where he spent so much time as a kid and visited with kids and families.
When he is not giving back to the community, including the one that saved his life, you can find Mike in the kitchen.
One scroll through his Instagram and you can find plate after plate of homemade food that looks like it was served up at a gourmet restaurant. While with the Jets, Mike even filmed a mock episode of "Chopped," where he had to cook with mystery basket items, and his meals seemed to impress.
Maurice Harris joins New England from Washington, and he isn't coming alone. He and his wife Kayla have two daughters and are expecting a son soon. The Harris family also brought home a precious puppy, Lotus.
Like Bruce, Maurice also has a family member in the NFL. Maurice's cousin is Keenan Allen, a wide receiver for the Los Angeles Chargers.
Finally, let's meet the newest Patriots tight end, Matt LaCosse.
As are his dance moves. After scoring his first career touchdown with the Broncos last season, Matt led his teammates in a "Lean Wit It, Rock Wit It" breakdown, and it was great.
Though he may have the facial hair and dance moves on lock, he readily admits his golf game could use some work.
From dads and photographers to chefs and dancers, the new Patriots bring a lot to the table. Welcome to Patriots Nation.