A year ago at this time, Sean Morey was preparing to go overseas with the Barcelona Dragons in order to get seasoning as a wide receiver.
This time around, life has turned a bit on the second-year player. He is back with the Dragons, but now instead of catching passes, he is trying to break them up. Morey is learning the ins and outs of life as a cornerback.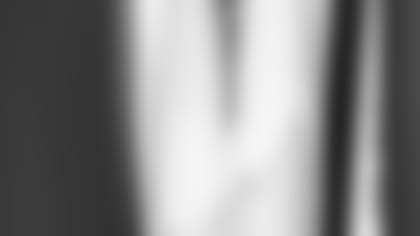 ]()
             "Generally speaking, it has given me a lot more insight into certain positions and techniques that not only that corners use to defend receivers, but also what receivers use in order to beat defenders," Morey said. "Really this has heightened my awareness as far as everything that is happening on the field. This is only going to help me become a complete football player."  

While his background as a wide receiver gives Morey an understanding of what his opposition is trying to do, it has also hurt him at times too. Still in the early stages of learning, Morey has found he has a tendency to try and jump routes that look familiar, something he can't always do.
"Coach Sam Rutigliano (Barcelona's offensive coordinator) gave me a pretty good quote the other day. He told me, 'Don't let your imagination take over for good judgement,'" Morey said. "Sometimes I try to anticipate things and I jump on routes. Sometimes I make great plays and look like I belong out there. Other times I'll try to anticipate a route, I'll get caught sitting on something and I find myself in a chase situation. Without being arrogant about it, I feel I can run with any receiver in this league and I've been able to make up for some bad decisions, but that's something I need to work on."
Morey is currently behind a couple corners with NFL experience on the Barcelona depth chart, but he expects to see action. The bulk of his reps have come in nickel and dime packages, with the Dragons top corners right now being DeAuntae Brown of Denver and Anthony Malbrough of Cleveland. Brown has spent time with the Broncos, Philadelphia and Pittsburgh since 1997, while Malbrough played nine games and had one start in 2000 with the Browns.
"What I've been trying to do is duplicate what the experienced guys do well and try to pick their brains," Morey said. "DeAuntae Brown and Anthony Marlbrough at the corners have helped me out considerably in terms of recognition of routes and understanding coverages. They have really stepped up and helped coached me as well."
Also helping is the presence of Patriots teammate Tony Simmons, who will almost certainly start at wide receiver for Barcelona. Simmons gives all the Dragon defensive backs an experienced NFL wideout to go up against in practice every day.
"I've gotten along with Tony really well since I came to the Patriots a couple years ago," Morey said. "We've kind of been getting after each other in practice out here. We're competing against each other a lot in one-on-one situations. I think we're making each other better in terms of preparation and it's going to benefit both of us. When we come back to New England I think we'll both be ready to contribute."
Simmons said Morey's intelligence helps make up for his lack of experience on the defensive side of the ball.
"He's coming along well. I watch him and he's a hard worker who is smart," Simmons said. "He's basically like a baby learning how to talk because he has never played the position. Now he's learning the finer points over here rather than just getting thrown into the fire in the NFL. Once he gets back to the NFL he'll have received a lot of input and he'll have the basics down as far as playing that position."
Morey has no problem switching from offense to defense. For the first seven weeks of the 2000 season he was out of football and working out with former Patriots speed coach Mike Morris to keep in shape. An offer was extended by player personnel man Scott Pioli to return to New England, and Morey signed on with the practice squad last Oct. 18.
"When I got the phone call from Scott Pioli, I was working on speed and training with Mike Morris to keep in shape, and I had worked out for about five or six teams," Morey said. "Scott asked what I felt about playing defense, and I just jumped at the chance to get on the field. I'm a pretty simple guy, and I just want to play football.
"The opportunity to learn defense is an enticing offer. I know this is sort of a science experiment with me playing on defense, but so far I think I've improved ten-fold from where I started in camp. My understanding of coverages has helped to the point where it is also going to help me be a more confident and reliable receiver."
One thing Morey can't concern himself with is worrying about injuries. Last year he suffered a broken finger in Europe that affected him when he returned for training camp. At the tail end of the 2000 season he suffered an ankle injury that led to his release on Dec. 6.
The ankle injury didn't keep Morey down, and after he re-signed with the Patriots on Jan. 3, he was a constant presence in the New England training room.
"I bugged (former assistant trainer) Kirk Brumels and (head trainer) Ron O'Neil just about everyday," Morey said. "They were miserable on the days I would go in there because I would stay there all day. When my treatment was done, I would go watch film and come back an hour later for more treatment. They have helped me out considerably. I think I have done everything in order to rehab the ankle exactly the way it should be done. Ron and Kirk have done a great job of keeping me healthy. Right now I'm in the best shape I've been in. I'm faster and stronger, and the ankle feels great.
"Whatever nicks and bruises you get are part of the game. That's just the nature of the beast. I do a lot to keep myself healthy, and I take this very seriously. If I continue to do that, then it shouldn't even be an issue. I think I can step in, give it a go and really help the team win some games next year."