When Nate Solder finally had a chance to play Pop Warner football in middle school, there was one problem. At a young age, the future tackle already was on the path towards a professional football player's build. With a tall frame, Nate exceeded the weight limit and wasn't able to play that year, but decades later, he was welcomed warmly by Pop Warner. 
Nate was honored with the Pop Warner Inspiration to Youth Award on May 27. The award is given to two players who are role models to young people both on and off the field, and Nate was honored alongside Philadelphia's Brandon Brooks. At the 57th annual All-America Scholars Banquet, Nate spoke to the crowd about the importance of giving back to the community, no matter where your career takes you.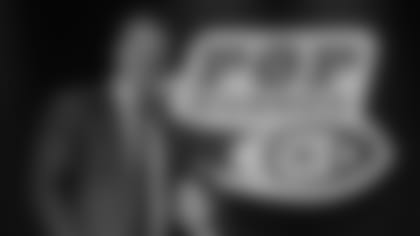 "Listen, in the very rarest of circumstances if your kid ends up being successful at football, maybe plays at college, maybe plays at the NFL, he's going to be worthless if they can't contribute positively to their community and be grounded in something bigger than themselves and football," Nate said. 
Nate isn't the only Patriot to receive this honor. Julian Edelman and Wes Welker both received the Pop Warner Inspiration to Youth Award in 2010 and 2008 respectively. 
In his speech, he also spoke directly to the parents of the young players in attendance. It is just as important for them, Nate said, to continue to grow and learn as their kids transition to adults. 
"Regardless whether you have success in football or not, they're all going to grow up, move away, have a family of their own they will have to lead and take care of. They will not be your babies forever," Nate said. "They need parents to get them ready."
Watch Nate's full acceptance speech in the video below.