For most of the season, there has been speculation, but just recently it has been confirmed.
Nate Solder is growing a mullet. Intentionally. 
Since before the season began, Nate, with the support of his family and friends, decided to branch out and grow his hair long. It took a few months for people to pick up on the party in the back, but now there is no hiding his fashion statement. 
"I think that now it's a clear-cut mullet, some of the awkwardness of if I was growing a mullet has cleared up," Nate said. "They embrace it in baseball. They embrace it in hockey. I'm just picking up that tradition and trying to instill it in the NFL."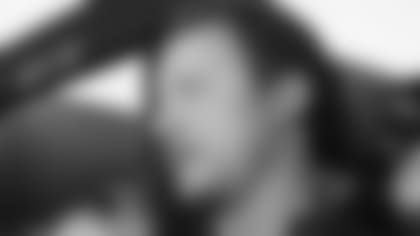 The idea was hatched over the offseason when Nate and his family were at the beach, and someone pointed out that with his "hair thin in front but thick in the back," a mullet would be the perfect hairstyle, according to Nate's wife Lexi. 
"I said to Nate, 'What other job are you ever going to have that you could grow a ridiculous mullet?'" Lexi said. 
With a strong history of mullets in the family, including the one Lexi rocked as a kid, Nate decided to go for it, but there were stipulations. 
"Baseball players and hockey players have the mullet kind of thing now, but theirs look good," Lexi said. "It can't be a good looking mullet. People need to know you're not taking yourself too seriously."
And Nate certainly hasn't been taking the whole thing too seriously, though he has had to start brushing and conditioning his hair regularly. 
"You can feel it on your neck. It's a strange feeling," Nate said. "It's a lot of work to keep up a healthy mullet."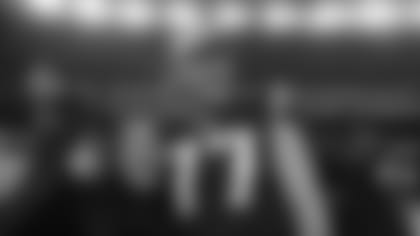 When Nate decided to commit himself to the mullet, he tried to get teammate David Andrews in on it too, but David bowed out, letting Nate have the spotlight.
"Nate has a great mullet, and it's so beautiful I decided I would let him bask in that," David said. "I didn't want to infringe on his territory. He's a doing a pretty good job of representing it."
Despite the epic 80s hairstyle being embraced by family, friends and teammates, there have been times when Nate wanted to give up. He came close to shaving it off with a few weeks remaining in the season, but he stuck it out. Nate admits that Lexi has been "holding [his] feet to the fire" when it comes to seeing it through to the end of the season.
"The funny part is, people will ask, 'Why do you have a mullet?' and he says, 'Because my wife likes it,'" Lexi said with a laugh. "It's partially true. There's nothing wrong with being a little different."
According to both Nate and Lexi, the mullet will be around until the end of the season, and while some guys grow playoff beards, Nate is just fine with his stylish route. 
"Well, it was a playoff mullet," Nate said with a smile. "Now, it's a Super Bowl mullet."