Nate Solder may no longer be a Patriot, but New England will always hold a special place in his heart. Patriots fans saw it when he placed a full-page ad in "The Boston Globe" thanking them, and they saw it again on Thursday when Nate penned an essay for "The Players' Tribune."
The essay chronicled his time in New England, from being drafted out of Colorado to his very last pregame prayer meeting. But more than what happened on the field -- the wins, the losses -- Nate wrote about the relationships he built and the support he received as he and his family fought their most pressing battle. 
When Nate and Lexi's son Hudson was just three months old, they found a lump in his stomach. Hudson had tumors growing on both of his kidneys, and the Solder's world was flipped on its head. Nate wrote about the chaos and raw emotion of those first few days after Hudson's diagnosis and the first time back at the team facility. 
Nate and Lexi went to pregame chapel, even though he was on IR. Then a song came on, and Nate and Lexi were overcome by emotion.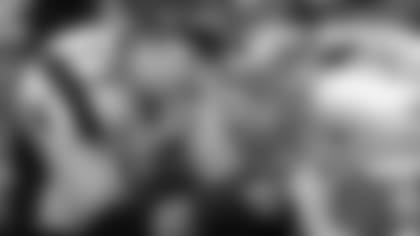 "The two of us were doubled over on our knees, sobbing -- no ... wailing throughout the entire song, and everybody was looking at us, wondering what was wrong. They didn't know."
Nate had told Bill Belichick and Josh McDaniels before this moment, and he said that despite that "businesslike" environment in New England, he was met with compassion and support. 
"I don't think I can even put into words how much I appreciated that -- both what Bill said and how Josh handled everything," Nate wrote. "They treated me like a human being instead of a football player or left tackle."
In the fall of 2016, Hudson's doctors stopped chemo and removed the port from his chest. They were going to monitor his tumors, hoping they didn't grow again. That year, after the Patriots beat the Falcons in one of the craziest Super Bowls in history, Nate's "fear and guilt and anxiety" changed to hope.
"I remember looking at him playing on the field and kicking confetti around, and I was just thankful that he was O.K. His health was everything," he wrote. "Winning the Super Bowl was icing on the cake."
This past fall, doctors discovered the tumors continued to grow. When looking at possibilities for the upcoming season, Nate knew he needed to be somewhere that would work for Hudson. 
Though, he writes, it's difficult to leave New England and the organization he grew with, the lessons Nate learned here will stay with him forever.
"Thank you, New England. I'm going to miss being a Patriot. I learned a lot about life over the last seven years, and I also learned a lot about winning — mostly, that it's not everything. There's so much more."