PHOENIX – Less than two months ago, Robert Kraft's Patriots were here in the desert southwest hoisting their fourth Vince Lombardi Trophy as champions of the National Football League. Part of the Patriots contingent, including Kraft, returned for the league's annual meeting, where a majority of business for the upcoming year is normally transacted.
There are rules changes to consider – nearly two dozen of them this year – and compensatory draft choices to hand out, as well as possibly getting a sneak peek at the 2015 NFL schedule. New England, as defending champs, has the privilege once again of opening the season on Thursday night after Labor Day, opponent still to be determined.
Kraft sits on several NFL committees, including a new one on exploring bringing the NFL back to Los Angeles, and during a midday break in the meetings, he engaged reporters' questions for nearly half an hour. Not surprisingly, as the owner of the most recent Super Bowl winners, Kraft was mobbed by microphones and cameras.
Of considerable interest to fans of his team, Kraft addressed the loss of several key components to that Super Bowl XLIX squad, including cornerback Darrelle Revis and defensive tackle/co-captain Vince Wilfork. Both players were allowed out of their contracts by the Patriots and signed with other clubs earlier this month – Revis back to his original team, the New York Jets, and Wilfork to the Houston Texans.
"The fan in me wishes he were still us," he began, speaking about Revis. "We thought we made a very competitive offer. We wanted to keep him. We wanted him in our system, and we have certain disciplines. We had hoped it worked out. It didn't. I think he feels a great commitment there [with New York], so we understand going back. We're sorry he didn't stay with us."
Kraft bristled when a New York reporter suggested that Patriots head coach Bill Belichick no longer wanted Revis, widely considered the best corner in the game.
"Bill wanted him," Kraft stressed. "But, I mean… you probably don't have to work on a budget. When you get a budget, there are certain things you can't do. We have a budget. In the end, we'll judge it by what the results are, what happens in wins and losses at the end of the year. Also, it takes two sides. I think each side, in the end, did what was right for them."
There have been charges that the Jets engaged in discussions with Revis before he officially became a free agent (known as tampering in NFL parlance), but the Patriots owner would not elaborate on his team's stance on how the Jets approaching the negotiations for Revis.
"You can speak to the league office about that… We're done with that."
As for Wilfork, a player the Patriots drafted in the first round in 2004, Kraft was even more disappointed to see a personal favorite of his leave town.
"That was one of the toughest things. It was even harder than anything else," Kraft admitted. "He's someone we watched come in here; I developed a very strong personal tie to him. It's the hardest part of this game, speaking as a fan and also someone who got to know him and Bianca and his kids."
Kraft referred to Wilfork's farewell statement, released via Twitter, as "something beautiful."
"He'll always be a Patriot and he's keeping his home here. Sometimes the player is more valuable to one team than other team given how they're constructed. Losing Vince is probably one of the hardest things that happened. Some emotional ties. He's a pretty special guy."
Any short-term pain, however, is meant to maximize long-term gain, Kraft went on to explain. For example, the owner cited three unnamed young defensive players (likely Chandler Jones, Dont'a Hightower, and Jamie Collins) who could be in line for contract extensions. Kraft said part of the business of today is looking out for the interests of tomorrow.
"We've done OK doing that," he added. "As a fan, in March and April, I hate to lose [players]. But our real focus is what goes on in the fall and winter. I put my faith and respect with Bill [Belichick]. We have a lot of discussions and he's done pretty good the last 15 years. The fan in me argues all the time with him. But he has a pretty good record. I think he's proven to be a pretty good manager of our resources.
"There are good guys in the locker room as well. I have full faith in my head coach, and we've actually brought in some really good players. And we have the draft and a lot of things are going to happen now. I think the core of our group is still pretty good. We have a lot of young, up-and-coming players.
"We want to be good year in and year out. Our objective is to try and make the playoffs. If you make the playoffs, then you have a chance of anything else happening. We've gone to four [AFC] Championship Games in a row, in the last 19 years we've gone to 10 Championship Games, we've been in seven Super Bowls. We're going to try to keep it going."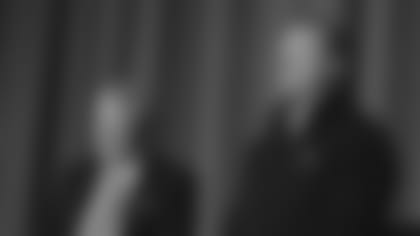 The 2014 Super Bowl run, of course, was marred by the NFL's investigation into supposed underinflated footballs used by New England in the AFC Championship Game against the Indianapolis Colts. Kraft deflected most of those questions by suggesting reporters "should ask the league office," although he was quick to note that any frustration he harbors about the on-going probe is not directly personally at Commissioner Roger Goodell.
"I think he has a pretty tough job. As a matter of fact, some of my friends say 'There are two jobs I don't want: President of the United States or Commissioner of the NFL.' He has a very hard job and I think he does a very fine job at what he does. It's tough. But he needs to make sure all the people working in the system are also doing it.
"I like to worry about things I can control. I know that there is no smoking gun here," Kraft emphasized about his team's culpability in the matter.
"We're worried about the 2015 season and that's our focus."
Watch Robert Kraft's full interview here: