It's been a couple of years since the Patriots have been to New Orleans and fans are more than ready to celebrate the first travel game of the regular season. The city has a lot to offer and we know it can be a little tough to plan out your road trip. Believe us when we say we had a tough time picking a few restaurants to visit and places to see, but we think we've managed to come up with some exciting places that y'all should visit on your journey to the Big Easy.
If you still want to head to the game and don't have a ticket in hand, the NFL Ticket Exchange still has plenty of seats.
To Do
Before you head over to the Mercedes-Benz Superdome, catch up with the rest of Patriots Nation. There are several events planned throughout the weekend by New England Patriots Fans of New Orleans along with the folks of Patriots Tailgate. Hang out with some Patriots fans at the American Sports Saloon on Friday night for the Red Sox-Tampa Bay Rays game or on Saturday morning for the Boston College vs. Notre Dame matchup. The group will also have a pub crawl later in the evening beginning around 7:45 p.m. in the Hyatt House lobby.
On Sunday morning, meet up with everyone for a tailgate at 8:30 a.m. at Poydras Street parking lot right across from the stadium. The tailgate has already sold over 300 tickets, but there are still more available for those who want to get in on the action. Tickets are $50 and can be purchased here.
There are plenty of things to do in the city before you head over to the Super Dome for the matchup against the Saints. If you want to relax before getting hyped up for game day, stop by Jackson Square. You can see local artists at work and maybe hear some music too. If you're in the mood for some jazz with some local favorites, we recommend you head over Preservation Hall, where musicians have played live shows since 1961. There are shows every two hours beginning at 6 p.m. every night.
https://www.facebook.com/hauntedhistory/photos/a.399669046747718.81679.101334146581211/1156819117699370/?type=3&theater
You can't head to New Orleans and not experience the city's haunted and not so haunted history. Check out Haunted History Tours, the city's largest and oldest walking tour company. There are plenty of tours to choose from including apub crawl of some of the city's scariest bars and they all cost $25. Here in the offices of Gillette Stadium, the French Quarter Ghost and Legends Tour comes highly recommended. It takes you on a journey through the oldest part of New Orleans to sites of hauntings recorded in police records, archives and paranormal investigations. Along with this paid tour, there areplenty of free tour opportunitiesthroughout the day that you could add to your itinerary.
https://www.facebook.com/Jacquesimos/photos/a.264198860432614.1073741827.264195113766322/670385359813960/?type=3&theater
Upon getting to New Orleans, you'll find yourself right in the midst of the city's restaurant week. Food is a huge part of the city's identity that developed from centuries of different nationalities blending together. So you'll be able to find plenty of options to satisfy pretty much every type of cuisine you're craving.
You can't go to New Orleans without grabbing a bite of Cajun dishes at Pat O'Briens. While you're at it, find yourself a Creole restaurant so that you can fully immerse yourself in the local scene. Check out Jacques Imo's to get your fill of Creole and soul food. The restaurant has classic Creole dishes like crawfish etouffe as well as Southern favorites like stuffed catfish. If you want something from the land, order the rack of lamb which has been cooked in Creole mustard sauce and served with red flannel hash.
Another place you could get your fill of Creole flavors is the Commander's Palace. Described as Haute Creole, the restaurant gets most of its ingredients from local farms and bayous that surround New Orleans. Plus it's Restaurant Week, so you'll be able get an appetizer, entrée and dessert. You can check out the menu here.
For a good ol' fanshioned burger, grab a bite at The Company Burger. There are two locations available in Downtown New Orleans and on Freret Street right near the Superdome.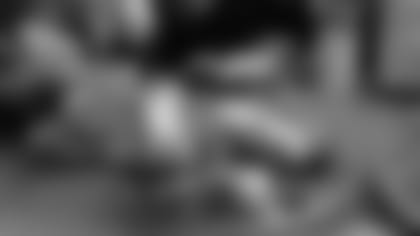 Now you can't head down to NOLA without stopping by Café du Mondefor some beignets. Known for the square pieces of dough and its café au lait, this coffee shop has been a staple of the city when the original place opened in 1862. Plus you'll never have to worry about getting your fix of these sweet treats since it is open 24/7.
For more information while planning your trip, visit:
Do you have advice for fans hitting the road for an upcoming away game? Share it with us at lifestyle@patriots.com.