CANTON, OHIO – An exciting recap of the 2018 National Football League season and the thrilling Super Bowl LIII is now showcased at the Pro Football Hall of Fame. The new NFL Films production "Road to the Super Bowl" debuted today in the Hall's Super Bowl Theater located in the Lamar Hunt Super Bowl Gallery.
The Hall's Super Bowl Theater is an immersive visual and sound experience featuring a large 40-plus foot screen and 15-channel surround sound that allows fans to experience NFL action and the Super Bowl like never before. The presentation was specially created for the Hall's Super Bowl Theater and produced by NFL Films Senior Producer Margaret Ruffing Morris.
The NFL Films veteran began working on the assignment a week after the New England Patriots' victory over the Los Angeles Rams in Super Bowl LIII.
Ruffing Morris commented, "I try to make sure that the story is just building, and the sound and picture are helping to create the aura that is so unique to the Super Bowl Theater at the Hall of Fame."
"Road to the Super Bowl" treats fans to the season in two parts starting with a creative look at the many memorable moments of the 2018 NFL season captured through the lens of NFL Films' cameras. The theater then rotates 180 degrees where the drama of Super Bowl LIII unfolds on the large screen. Unique footage from the field and sidelines added to the drama of the Patriots' sixth Super Bowl championship.
The Super Bowl Theater recently received cosmetic updates as well as the installation of an enhanced projection system.
"Road to the Super Bowl" is included in the price of museum admission. The Pro Football Hall of Fame is open every day of the year except Thanksgiving and Christmas. For more information and to plan a trip to the Hall, please visit **www.profootballhof.com/visit/**.
Patriots fans first in line to see debut of "Road to the Super Bowl"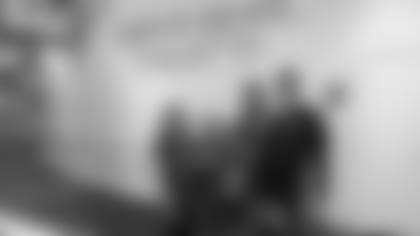 Chris and Audra Devine along with their three girls Cami (9), Elle (7) and Rosie (4) from Milton, Massachusetts were visiting the Hall of Fame today. As fate would have it, the diehard Patriots fans were the first in line to see the debut of the "Road to the Super Bowl" showcasing New England's thrilling 2018 season capped by a win over the Rams in Super Bowl LIII.
The Pro Football Hall of Fame was the family's sixth hall of fame in five days on their spring break trip. The Devines have been Patriots season ticket holders for 25 years and have attended four Super Bowls including the most recent one.
Moments after watching the "Road to the Super Bowl, Chris commented, "It was fantastic! What a great show. Very realistic and lifelike. Really better than being at the game in terms of the sights and the sounds."