The Patriots are on the road again, and this time they're in New York to take on the Jets. Since there's always a ton of things to do and restaurants to visit, we thought that we would help make things easier for your trip to the Big Apple.
The NFL Ticket Exchange still has plenty of options available for the game on Sunday, so if you want to make a trip to MetLife Stadium, you can take a look at the tickets listed.
To Do
Though MetLife Stadium is in New Jersey, it is just a quick train ride or drive to Manhattan. And as always, there's no shortage of things to do and see in the city. 
If you'd like to rub shoulders with some of the culinary world's biggest stars, check out the New York City Food and Wine Festival. There are still a ton of events available like the Rooftop Iron Chef America Showdown, where some of the best chefs will compete in "Battle Autumn Bounty" on Saturday night. Plus you'll get a chance to taste some of the dishes from the contest.
Stop by Madame Tussads and get your close up with Thor, the Hulk, Captain America and some of the other Avengers. The museum has more than just super heroes, though. You can take a look at some of the world's most recognizable celebrities and sports icons. If you want to get in the spooky spirit but avoid wax figures, check out the Brooklyn Horror Film Festival. With Halloween right around the corner, it's the perfect time to get your fill of some classic horror flicks. 
Head over to the High Line in Chelsea to check out a unique view of the city and to soak in as much of the nice weather as possible. The High Line is a public park built on an old freight line above the streets. Just a three minutes walk from the High Line is the Chelsea Market,which also offers unique food and cool vendors seven days a week. 
Now on game day, you can head over to Tir na nOg in Times Square to watch the guys in action with a few other local fans. This tight knit group regularly cheers the team on and will welcome any newcomers with open arms. You can also check out Professor Thom's, located just 18 minutes from Times Square. If you can't make it down to MetLife Stadium, you'll be able to find yourself at home with Patriots fans in New York.
Eat
New York is full of a variety of cuisines, so it'll definitely be hard to narrow down what you may be in the mood for. If you're in the city for the Patriots matchup against the Jets, here are some restaurants you may want to check out.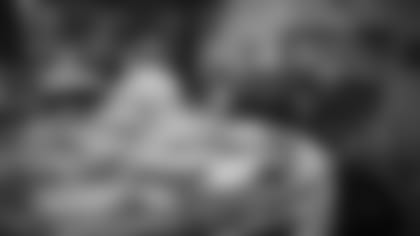 Apparently it's National Pizza Month, so what better place to celebrate than New York City? If you want to enjoy a slice of history, head to Lombardi's, one of the country's oldest pizzerias. If you're not in the mood for a white pizza or a Margherita pizza (pictured above), you can make your own with the toppings of your choosing. You can also head uptown where Patsy's Pizzeria boasts some of the city's most affordable pizza. After a night on the town in the city, check out Joe's Pizza in Greenwich Village, which is open until 4 a.m. so you'll definitely be able to get your late night fix of pizza. You won't want to miss out on a chance to grab one of city's most famous foods.
With a few locations throughout the city and an eclectic, delicious menu, The Grey Dog is sure to please. The hip restaurant features a broad sandwich menu, including its famed chicken salad melt, hearty burgers, pasta bowls and plenty of vegetarian options. 
Just a nine minute walk from the American Museum of Natural History, Café Lalo is a low key bistro where you can enjoy dinner and dessert. Featured in the movie "You've Got Mail," Café Lalo will make you like you're dining at a café in Paris or Rome with its warm ambiance and floor to ceiling French windows. We highly recommend the authentic Belgian waffles, which comes with Vermont maple syrup, or one of their grilled sandwiches. Ask about the Affogato Elegant Italian dessert. Think vanilla ice cream with espresso and a touch of cognac.
Here's to a great trip in the city that never sleeps. For more information for planning your stay go to: