The first official practice of the 2013 season took place Friday at Gillette Stadium, with rookies donning their Patriots helmets and workout gear for the first time.
Taking the fields behind Gillette were 26 rookies – seven draft picks and 19 undrafted rookies – plus two first-year players, defensive lineman Armond Armstead and outside linebacker Jason Vega, as well as five players brought in on a tryout basis (a kicker, a quarterback, an offensive lineman, and two defensive players).
Only one player – wide receiver Josh Boyce – was unable to take part in practice. The team's fifth-round draft choice is recovering from surgery to repair a broken small toe. He watched Friday's workout from the sideline.
"We're looking forward to getting out on the field over the next three days and working with a lot of new guys, new faces," head coach Bill Belichick told reporters prior to practice.
"Obviously we have a lot of information to give them in every area, not just football, but the whole transition in becoming a professional athlete and in most cases for these guys, relocating to a part of the country they're not too familiar with. We have a lot of ground to cover but I think it's a group that so far seems attentive and eager."
After receiving his No.1 jersey Thursday, representing the team's top overall pick, outside linebacker Jamie Collins had his first opportunity to speak with local reporters in person.
"It's a great experience. It's a blessing… not too many people have that chance," Collins said of yesterday's photo op with team owners Robert and Jonathan Kraft. "I'm just enjoying it and cherishing the moment. Just trying to get in the routine of things around here and make the best of this. I'm just glad to be here, being a part of this organization, trying to do my best, whatever I can for the team."
For practice, Collins exchanged that symbolic digit for a more position-appropriate number – 91.
Putting on the Patriots logo for the first time was a memorable experience for the rookies, for whom the realization that they'd reached the NFL was just starting to sink in fully.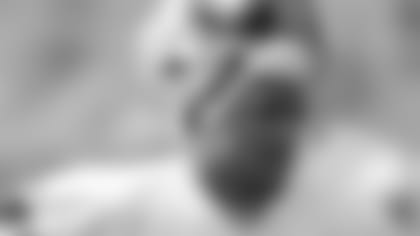 "Yeah, it did. Actually," admitted a beaming wide receiver Aaron Dobson, the team's second overall pick, "when I got fitted for my helmet yesterday, that's when I just smiled and got really excited. I thought, 'Man, I'm putting on the Patriots helmet!' I'm excited to be here."
As Belichick indicated, these initial practice sessions are intended to instruct the new players, rather than to evaluate them on a competitive basis. That will come later for those fortunate enough to make it all the way to training camp in late July. For now, the focus is on absorbing as much of their new surroundings as possible, including their first glimpse at the Patriots thick playbook and the nuances of being a full-time professional athlete.
"It's new to all of us," observed third-round pick Logan Ryan, a cornerback from Rutgers. His strategy for adapting to NFL life is simple, he said.
"Do exactly what they ask me to do. Understand what my job is and my role on this team, and do that, and continue to be a professional off the field so I can have success. I know it's going to be a longer season as a rookie, but just take as much advice and tips as possible to have a successful rookie campaign."
While draft picks like Ryan may feel more secure in taking a long-term approach to the season, other players in town this weekend are just glad to be here in the moment. There's no guarantee that a player like wide receiver T.J. Moe will be around any longer than the next few days. So, his goal for rookie mini-camp is simple, he explained.
"For me, I just want to show them that I care, that I'm into it more than anyone else here, pick up the playbook that they're kind of throwing at you in spurts here, but pick it up as fast as you can and show them that you care about football more than anything else.
The new players will be back on the field Saturday for their next organized workout.