Last night, Shalise Manza Young of the Boston Globe reported that Chandler Jones could be out for a month with a hip injury. Jones leads the team with 4.5 sacks to go along with 15 quarterback hurries and 26 tackles. As a result, the Patriots traded their 2015 sixth-round draft pick to the Tennesse Titans for linebacker Akeem Ayers. Ayers was a second-round pick in the 2011 draft and began his career with a strong rookie campaign and an even stronger sophomore season.
"In the offseason, the 25-year old Ayers underwent surgery on both knees, having the patellar tendon in each repaired about six weeks apart," explained Young. "That, coupled with the Titans' switch to a 3-4 defense, meant Ayers had played in just two games so far this year, with 10 total snaps on defense."
ESPN Boston*'s Mike Reiss further elaborates on Akeem Ayers and how he can help the team. Reiss calls it a "low risk, depth-based move" but believes that Ayers could fill the strong-side linebacker role, which would allow Dont'a Hightower to move to the middle.
"The 6-foot-3, 255-pound Ayers has experience playing both on and off the line of scrimmage and had been used as a designated pass-rusher at times in the NFL and at UCLA," said Reiss. "Such athleticism and versatility is often appealing to Bill Belichick."
While Ayers certainly addresses a need, he isn't exactly the "blockbuster trade" we all would like to see. Adam Kaufman and the rest of the Boston.com staff debate whether the Patriots will make another trade before the deadline next week. Both Eric Wilber and Kaufman expect the team to make another trade, but it won't be the one that Patriots fans want to see.
Tom Curran of Comcast SportsNet beleives the Patriots need to make a run at the Buccaneers star wide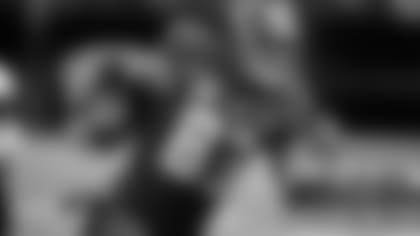 receiver, Vincent Jackson. According to reports, the Bucs are getting "hammered" with phone calls from teams who want to add Jackson to their roster. Curran says that the Patriots should be one of the teams calling Tampa Bay because he believes Jackson would be the perfect half-year rental.
"The Patriots have the cap room to easily deal with the rest of Jackson's 2013 salary," explains Curran. "And if New England didn't want to pay Jackson at the 2015 rate the Bucs negotiated, they could release him with no further damage. "
In addition to adding Ayers, the Patriots are expected to sign free agent defensive end Alan Branch, according to Shalise Manza Young. The 6-foot-6, 325-pound lineman was released by the Buffalo Bills in August after being arrested for driving under the influence.
Another free agent defensive lineman Bill Belichick could target is Michael Sam. BostInno's Hayden Bird believes that Sam could help the Patriot's pass rush while Chandler Jones recovers from injury. In fact, even when Jones returns, Sam would provide depth on the defensive line and could be used as a third-down pass-rushing specialist.
"Depth is needed. And Michael Sam could provide that," believes Bird. "One of the most effective people in all of college football last season, whose best skill is exactly what the Patriots need, is currently available."
Former Patriots' linebacker Matt Chatham says that the loss of Chandler Jones has forced another defensive shuffle for New England. Chatham breaks down the Patriots depth chart and highlights what he thinks are the best defensive pairings for each base set. He expects rookie Zach Moore to get a lot more playing time in the absence of Chandler Jones.
"I've liked what I've seen from Moore, and am pretty certain he can provide significant QB pressure if given the every-down opportunity," wrote Chatham.