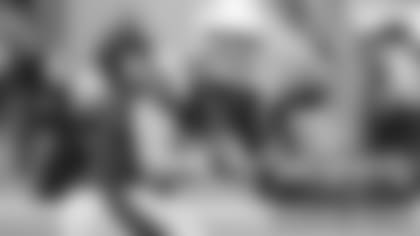 Boston.com*'s Chad Finn touches on 5 things we've learned thus far about the Patriots. According to Finn we've learned that Tom Brady is not in decline, Bill Belichick the GM actually can help Belichick the coach, and we've learned that not even a scalpel could reduce Gronk's powers. In fact, he believes that Gronkowski may be the greatest all-around tight end to ever play the position.
"Gronk won't win the Most Valuable Player award, but his name merits mention, and if he can remain upright through the postseason, I love this team's chances of claiming that elusive fourth Lombardi," wrote Finn.
Now that Gronk is back to full strength, he provides one of the toughest matchups in all of football. His brute strength coupled with his surprising athleticism makes him almost impossible to stop. Shalise Manza Young of the Boston Globe said that Indianapolis has struggled against tight ends this year and they're going to have to pull out all the stops to slow Gronkowski down.
"Go down the list of tight ends and many of them had their best statistical game of the season against the Colts," wrote Young. "Knowing Gronkowski is coming to town, [Chuck] Pagano said clamping down on tight ends is a point of focus for his defense."
A big game from Gronkowski this week would go a long way towards a Patriots win, which is something Karen Guregian believes the team needs. In a recent article in the Boston Herald, Guregian explains that the team has struggled on the road in recent years. Road wins were never an issue for the Patriots back when they were winning championships. Guregian believes that if the Patriots want to secure home-field advantage in the Playoffs, they're going to have to prove that they can win on the road.
"Already, we've seen some signs of that. One of the issues contributing to big-game losses on the road was not having a defense that made the key stops," explained Guregian. "A stingy defense tends to quiet home crowds. Containing Andrew Luck and the Colts' league-leading offense and putting the silencer on Lucas Oil Stadium would go a long way toward winning the game."
Stephen Holder](http://www.indystar.com/story/sports/nfl/colts/2014/11/11/ty-hilton-darrelle-revis-bill-belichick-colts-patriots/18857463/) of the Indianapolis Star wrote an article telling Colts fans to expect something unexpected from Bill Belichick's defense. He says that the Patriots present a challenge for the Colts offense unlike anything they've faced this season.
"Even against a Patriots defense that is both versatile and creative, the Colts aren't exactly on the defensive. Look for them to continue to take downfield shots and find ways to get the ball to their playmakers. After all, that's what New England expects," wrote Holder.
Over the past few weeks, the Patriots offensive line has held up well against edge rushers like DeMarcus Ware and Von Miller, but that doesn't mean teams will stop trying to expose the o-line. Tom Curran of CSNNE.com believes that teams may start to create pressure in the A-gaps, which are located between the center and guard positions. Bill Belichick explained how the Patriots can try to stop A-gap pressure.
"But for a quarterback with limited lateral mobility, A-gap pressure may be the best way to dissuade Brady from slicing and dicing the middle of a defense," said Curran.
This weekend's matchup against the Indianapolis Colts features two of the NFL's best quarterbacks. Brady and Manning still may be the two best quarterbacks right now, but which young quarterback would be the best choice to center a team around. Chris Gasper joined Gary Tanguay on Comcast SportsNet's "Early Edition" to discuss this topic. Gasper said he would take Aaron Rodgers, while Tanguay's prefers Andrew Luck.
"He's 25-years-old, he can also run as well as throw," said Tanguay. "I think when he gets a team around him and he gets a defense it will be just like Manning. I hope that he's going to be a better clutch quarterback than Manning."