Adam Kurkjian](http://bostonherald.com/sports/patriotsnfl/newenglandpatriots/2014/05/patriotsnotebookallsignspositiveon_rob) of the* Boston Herald* says that all signs are positive in Rob Gronkowski's recovery from knee surgery. Along with a handful of his teammates, Gronk was at the Igo Elementary School yesterday for the NFL's Play 60 event. He spoke to the media following the event and said that everything's coming along well.
"Just rehabbing, like every day, just improving every single week. That's all I can ask for," said Gronkowski.
NESN.com posted a video on Gronk's recovery process.
One person who certainly hopes #87 will be ready for the start of the season is Tom Brady. Some have said that Tom Terrific had a "down year" in 2013, but he was at his best when Gronk was healthy. Michael Felger appeared on Comcast Sports Net's Early Edition to discuss his expectations for the Patriots quarterback in 2014.
"I think we'll feel a lot better about Tom Brady next year than this year because less will be asked of him," said Felger on the show.
Felger also mentioned that he think's Brady's on-field performance has declined a hair but that he's still one of the best in the league. One of the big topics of concern heading into 2014 has been on "Brady's Window" and how fast or not it is closing. CSN's Tom Curran believes that Brady's window is far from closing.
"Screw the birthdate. Where is the visual evidence of a quarterback in decline? Brady's told me he's not close to done," writes Curran. "He's a unique athlete who's signed in New England for four more seasons. The date of birth says to be concerned about the window closing. The performance says it's still open wide."
Elsewhere around the country, Brent Sobleskire  wrote an article on USA Today's website that listed five players that will become breakout stars in 2014. Patriots second-year linebacker, Jamie Collins made the list based on a strong end to his rookie year in 2013.
"Collins' ability to drop into coverage was evident late in the season. He deflected six passes in the team's final six games. He also brings added versatility as an edge rusher in certain sub-packages," says Sobleski.
As OTA's begin this week, NFL.com writer Chris Wesseling came up with a list of ten candidates for summertime trades. Ryan Mallett was listed as one of those players despite Bill Belichick insisting that the team is not interested in dealing Mallett. The two teams Wesseling listed as potential landing sports for Mallett was Dallas and most notably, Houston.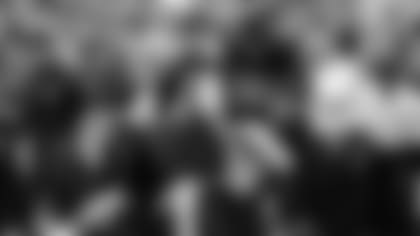 A few weeks ago, Patriots fans were hoping for another blockbuster offseason move when wide receiver Andre Johnson was reportedly unhappy in Houston. A trade involving Mallett and a future draft pick for Johnson would make sense but NESN's Doug Kyed says that fans shouldn't be too optimistic. Even though Johnson has yet to show up to Houston's organized activities, Kyed believes that a trade for the All-Pro receiver is highly unlikely.
On the other hand, CBS Boston's Michael Hurley believes that the Patriots must do everything they can to try to acquire Johnson.
"Is it complicated? Yes. Is it impossible? no way," writes Hurley. "If the Patriots think back to that Sunday afternoon in Denver, the day when Brady was throwing passes to Matthew Mulligan an Austin Collie and Michael Hoomanawanui and Matthew Slater, they must know they need Andre Johnson if they want to once again reign supreme over the NFL."
And on a lighter note, there have been some Patriots players going viral lately. Just days after Vince Wilfork's Memorial Day boogie, Julian Edelman released another Youtube hit he calls "Burgertyme." Both Chandler Jones and Ryan Allen make an appearance on Edelman's goofy talk show while Devin McCourty also made waves on the web when he seen giving out "Free Safety Advice" in downtown Boston. When you watch the video, you should have no problem picking up on the clever pun in the title!
All three videos are must-sees for any Patriots fan.