Last night Rob Gronkowski was voted the 41st best player in the league according to NFL Network's annual Top 100 Players list. Last year, the Patriots star tight end came in at #25, but after a year plagued with injuries Gronk dropped 16 spots and fell to #41 on the list.
Due to his impact on offense, Gronkowski has been in the spotlight thus far at OTAs. Everyone wants to know how Gronk's rehab is progressing and whether he will be ready for the start of the 2014 season. Last week, Ben Volin of the Boston Globe wrote that Gronkowski was "bursting, planting, and cutting" during practice. Thought not every reporter agreed of Volin's assessment, Gronkowski will certainly continue to be a player to watch during today's OTA that's open to the media.
In addition to Gronkowski, Comcast Sports Net's Phil Perry came up with a list of other things to look for as the team gets ready for its finale two OTAs of the 2014 offseason. He's hoping to see more from Josh Boyce and Brandon LaFell on offense, while on the other side of the ball, he's hoping Brady and the quarterbacks will give Darrelle Revis more action during the 7-on-7 drill.
"It's still early, and the media has only been allowed to see two of eight OTAs to this point, but it would still be interesting to see Tom Brady go after his old AFC East rival in a 7-on-7 drill, wouldn't it?" asks Perry.
The Boston Globe's Zuri Berry also provided his own list of things to look out for during today's practice that's open to the media. He's hoping to see more from all of the second-year players and he'll be keeping an eye out for some of the no-shows to this point -- specifically Armond Armstead, Dominique Easley, Alfonzo Dennard, and Aaron Dobson.
"There's a new dynamic for both the wide receivers and cornerbacks group, and with these two out [Dennard and Dobson], it's hard to get a grasp of how things will shake out ahead of the regular season. So, we wait," writes Berry.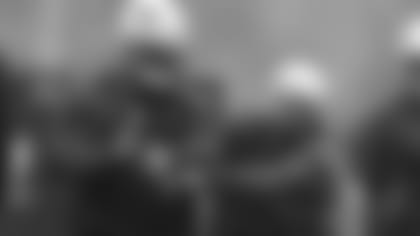 Another player on most reporters' watch lists has been Vince Wilfork. Last week Wilfork participated in about half of the drills during Thursday's OTA, which was a significant increase in his workload from the week before. Jeff Howe of the Boston Herald says that Wilforks increased participation gives even more optimism for the 2014 season and he hopes to see more players have a bigger role in today's practice.
"Wilfork's health, as well as the improvement of others, will continue to remain among the most significant areas of media focus," writes Howe. "Today, it's time to see if any others make a similar leap. Tight end Rob Gronkowski (torn ACL/MCL), left tackle Nate Solder, special teams captain Matthew Slater, tight end D.J. Williams, cornerback Justin Green and running back Brandon Bolden are among the notable players who departed for the bubble shortly after jogging last Thursday."
On a slightly off-topic note, ESPN Boston's Mike Reiss took a look at the Patriots current financial status. According to ESPN's Stats and Information, New England has $7.35 million in remaining cap space, and $10.72 million in dead money. Reiss points out that although the team did not have many "big-ticket" players to resign this offseason, they will have some big decisions in the upcoming seasons.